Vista Social Becomes the First Platform to Offer Instagram Reels Scheduling
Press Release
•
Jul 6, 2022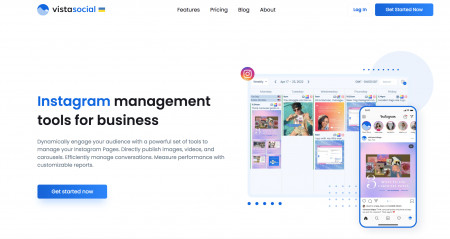 NEW YORK, July 6, 2022 (Newswire.com) - The long-awaited direct publishing for Instagram Reels is finally here. Vista Social, the leading social media management platform for brands and agencies, is beyond excited to announce that they are the first platform to offer the ability to directly publish Instagram Reels to Instagram.
Currently, other social media management platforms are only offering reminder scheduling. Vista Social's Reels scheduling capabilities provide a smoother user experience, no more inconvenient apps to install or notification reminders to manage. Their comprehensive platforms allow businesses to manage their profiles with direct video publishing and analytics features.
With Instagram's recent rollout of the new full-screen home Feed, it's more important than ever to create a consistent Reels strategy on the app. Brands are working hard to activate, optimize, and manage their content strategy to find and scale success.
This new addition to Vista Social offers a number of exciting features to its platform for its customers, including:
Auto Publish for Reels: an all-new feature allowing users to schedule Reels ahead of time to be published automatically.
Reels Social Inbox: a first-of-a-kind tool allowing users to manage comments, messages, reviews, and mentions, to stay on top of important interactions in one easy-to-use dashboard.
Reels Detailed Analytics: access to analytics to measure, track, and review their Reels' performance and optimize their strategy.
Instagram Social Listening: track conversations that matter to brands through timely alerts and sophisticated filtering.
As the number one in engagement, Instagram Reels has outperformed all other short-form video apps and has become the go-to for reaching new audiences on Instagram.
There is a huge opportunity to leverage insights and engage with audiences at scale by directly publishing Reels with Vista Social. In fact, studies suggest Reels are better for brands than TikTok.
Until now, brands had to manually manage their Reels' content between several platforms and stakeholders — leading to inconsistent posting, limited insights and reporting, and increased moderation needs.
To combat these challenges, Vista Social aims to improve brands and agencies' Reels management experience by allowing users to schedule and optimize Reels within their platform.
Over 924K social media profiles are connected and accessing Vista Social's suite of social media tools to visually plan and schedule content, reach new audiences, optimize performance, and drive actionable results.
Vista Social's unique technology is designed for social media as it exists today and not the last decade like other platforms available. They are happy to have helped their customer base schedule over 2.2 million social media posts monthly and support brands in growing their business.
About Vista Social
Vista Social is a modern social media management platform designed for social media as it exists today, not for social media of the last decade. They have a suite of powerful products for publishing, engagement, analytics, listening, and reviews.
Whether a user is a small business, marketing agency, or enterprise — or even just an individual user — Vista Social has features for seamless social media management. Their powerful suite of features helps schedule social media posts, curate relevant content, measure your social media marketing return on investment (ROI), manage internal and external teams, and more.
Source: Vista Social