Vista Social Becomes the First Approved Platform for TikTok Direct Publishing
Press Release
•
Feb 15, 2022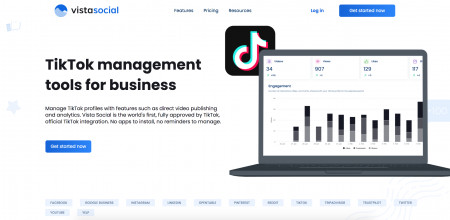 NEW YORK, February 15, 2022 (Newswire.com) - Today, Vista Social is extremely excited to announce that they are the first, fully approved by TikTok, platform to offer TikTok Direct Publishing. TikTok has been dubbed the top social media app for engagement, with an average session duration of 10.85 minutes, twice Pinterest at rank #2 with 5.06 minutes. Marketers will now be able to use TikTok Direct Publishing capabilities through Vista Social.
Currently, other social media management platforms are only offering reminder scheduling. Vista Social's TikTok integration provides a smoother user experience, no more inconvenient apps to install, or notification reminders to manage. Their comprehensive platforms allow businesses to manage their profiles with direct video publishing and analytics features.
With TikTok Direct Publishing, marketers can more easily create and manage cross-platform campaigns, access TikTok analytics, learn about their audience, and optimize their strategies right in the Vista Social suite. Vista Social is a robust social media management platform that can be used to schedule posts for TikTok, Facebook, Instagram, Twitter, LinkedIn, Pinterest, YouTube, and more.
The approval from TikTok as the world's first platform for TikTok integration represents a preview of the top social media management platform for 2022. A trending social media app like TikTok requires modern integrations available on Vista Social.
About Vista Social
Vista Social is a modern social media management platform designed for social media as it exists today, not for social media of the last decade. They have a suite of powerful products for publishing, engagement, analytics, listening, and reviews.
Whether a user is a small business, marketing agency, or enterprise—or even if just an individual user—Vista Social has features for seamless social media management. Their powerful suite of features help schedule social media posts, curate relevant content, measure your social media marketing return on investment (ROI), manage internal and external team, and more.
Source: Vista Social