Vista Social Becomes One of the First Platforms to Offer Instagram Carousel Scheduling
Press Release
•
Apr 14, 2022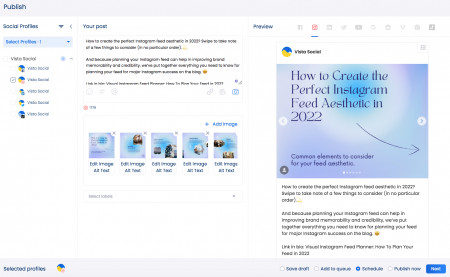 NEW YORK, April 14, 2022 (Newswire.com) - Today, Vista Social is thrilled to announce that they are one of the first platforms to officially launch the ability to schedule carousel posts directly to Instagram, with no mobile app workarounds or notification/reminder scheduling.
Businesses can automatically schedule up to 10 images or videos (something not currently offered by other platforms) in a carousel post format — and automatically publish them to Instagram.
This news comes at an integral time for businesses as numerous studies have found that carousel posts generate higher engagement on Instagram. Reels can be as long as 60-seconds, and studies have shown that the average attention span is around 8-seconds, making a Reel 7.5x longer than what people are willing to pay attention to. One study found that carousel posts on Instagram receive 5.13% more engagement per post than a single post that includes one image or video.
As it stands, other social media management tools are only allowing reminder scheduling, mobile app publishing, or limited abilities to schedule only image carousel posts. Vista Social's Instagram integration offers a seamless user experience, with no notification reminders to manage or inconvenient apps to install. Their all-inclusive platform provides innovative businesses with the tools to effectively manage their social media accounts with direct carousel publishing capabilities.
With Instagram carousel scheduling, marketers can more easily create and manage their contents performance, access key analytics, learn about their audience, run competitor analysis, and optimize their strategies right in the Vista Social suite.
About Vista Social
Vista Social is a modern social media management platform designed for social media as it exists today, not for social media of the last decade. They have a suite of powerful products for publishing, engagement, analytics, listening, and reviews.
Whether a user is a small business, marketing agency, or enterprise—or even if just an individual user—Vista Social has features for seamless social media management. Their powerful suite of features help schedule social media posts, curate relevant content, measure your social media marketing return on investment (ROI), manage internal and external team, and more.
Source: Vista Social