Visitors to the Albuquerque Home Show Discover Tools for Life
There was a lot going on at the bright yellow Volunteer Ministers tent at this year's ABQ Home Show
Press Release
-
updated: Mar 1, 2018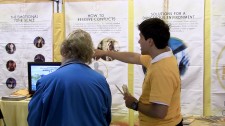 ALBUQUERQUE, N.M., March 1, 2018 (Newswire.com) - Those visiting the 2018 ABQ Home & Lifestyle Show Feb. 24 and 25 were surprised to learn that no matter how sore or tired they felt, they could find relief through a simple and effective technique offered by Church of Scientology Volunteer Ministers.
Known as an "Assist," the technique was developed by Scientology Founder L. Ron Hubbard to address the mental and spiritual aspects of a person's physical difficulties. Scientology Volunteer Ministers offered assists to people seeking relief and to others who were simply curious to find out how an assist might help them.
Show visitors were also invited to tour the Volunteer Ministers' signature yellow tent to learn to use this technique and an array of Scientology fundamentals — Tools for Life that can bring relief from physical, mental or spiritual suffering and improve any aspect of life. These courses cover communication, study, marriage, parenting, dealing with stress, success in the workplace, achieving goals and much more.
The motto of every Scientology Volunteer Minister is "Something Can Be Done About It." No matter what area of life is causing an individual trouble, the Volunteer Minister is ready to help.
Volunteer Ministers take their unconditional help into communities such as Albuquerque and across the world with their Volunteer Minister tours. They offer assistance to anyone and provide the 19 Scientology Tools for Life Courses free of charge in the tent. Upon request, Volunteer Ministers will deliver on-site seminars to any organization, group or community.
Hundreds of thousands of individuals across the globe — Scientologists and others — have been trained in these skills that are contained in the Scientology Handbook — 19 Tools for Life courses, each covering a distinct body of technology. Each tool is the subject of its own film and free online Volunteer Minister course. 
The Church of Scientology Volunteer Minister program is a religious social service created in the mid-1970s by L. Ron Hubbard. Anyone of any culture or creed may train as a Volunteer Minister and use these tools to help their families and communities.
In creating the Volunteer Ministers program, L. Ron Hubbard wrote, "If one does not like the crime, cruelty, injustice and violence of this society, he can do something about it. He can become a Volunteer Minister and help civilize it, bring it conscience and kindness and love and freedom from travail by instilling into it trust, decency, honesty and tolerance."
Source: ScientologyNews.org
Share:
---
Categories: Religion, Philanthropy
Tags: ABQ, Albuquerque, Scientology Volunteer Ministers
---