Visited Surpasses 500,000 Users
How many countries have travelers been to? Visited, a mobile travel app has the answer.
Press Release
-
updated: Dec 14, 2018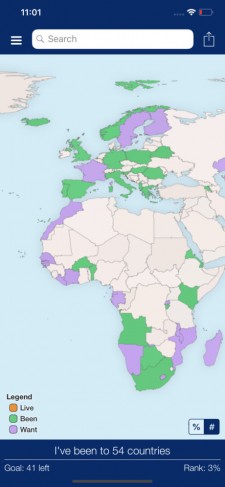 TORONTO, December 14, 2018 (Newswire.com) -  Visited, a mobile travel app developed by Arriving In High Heels Corporation, has just surpassed the 500,000 user mark. This personalized travel map app tracks where users have been and where they want to go. Users can also compare their travel rank against travelers around the world. The app also makes it easy for users to share their personalized travel map and stats on social media. Visited is available in over 30 languages and is free to download on both the App Store and Google Play.
In addition to providing a customized travel map of past and future travels, users can also:
Map out U.S. states that they have visited or see how many states are left on their list
See the most popular countries that travelers from the same location have visited
Rank themselves against other travelers
"As a traveler, I had a hard time keeping track of all the countries where I've been," says Arriving In High Heels Corporation CEO Anna Kayfitz. "I wanted an app to keep track of all the countries I have visited and set my future travel goals. When I could not find anything that fit what I was looking for, I decided to create it. Never did I think it would become so popular."
What started as a simple personalized map, has expanded into providing personalized travel infographics. Some of the stats include seeing how many countries and states users have been to, how many countries are still left to visit and how they rank against other global travelers.
The stats along with personalized travel map is what makes this app popular among travelers around the world. With the growth from users, Visited can improve the statistics it provides to its international user base. Kayfitz, also hopes to inspire travelers to keep up with their travel goals and hopefully add a few new countries to their list.
About Visited
Visited is a personalized travel map app which was developed by Arriving In High Heels Corporation. The company was founded by travelers and wants to inspire people to achieve their personal travel goals. 
For further information:
Contact: Anna Kayfitz, Visited CEO
​Email: info@arrivinginhighheels.com
Source: Arriving In High Heels Corporation
Share:
---
Categories: Travel, Mobile and Smart Phones
Tags: personalized map, travel app, travel stats, visited
---