Visited Releases List of Top 10 National Parks
Press Release
•
Sep 20, 2022
Travel App Visited Compiles Over 1 Million Users' Data to Determine the Most Popular National Parks in the U.S.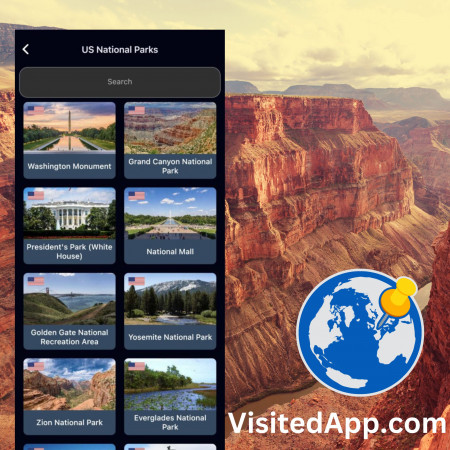 TORONTO, September 20, 2022 (Newswire.com) - The travel app Visited by Arriving In High Heels Corporation has published a list of the top 10 most visited U.S. National Parks.
Visited, available on iOS or Android, allows users to check off where they've been and where they'd like to go. Travelers can also set travel goals, see personalized travel stats, and discover new destinations using the app. The app features over 50 different bucket list including: popular hiking destinations, list of wonders of the world, popular cruise ports and beer destinations to name a few.
The top 10 most visited U.S. National Parks include:
Grand Canyon National Park in Arizona is the most visited park, offering the splendor of the Grand Canyon's red rock ravines which date back millions of years.
Washington Monument in Washington, DC, attracts tourists for the purpose of seeing the nation's iconic capital landmark that commemorates the first U.S. president.
President's Park (White House) in Washington, DC, is the third most visited park, which includes the White House, where every U.S. president after George Washington has lived.
National Mall in Washington, D.C., includes the iconic Lincoln Memorial and Washington Monument.
Golden Gate National Recreation Area surrounds the San Francisco Bay area and features over 82,000 acres of natural areas that include 19 distinct ecosystems.
Yosemite National Park in the Sierra Nevada Mountains of California attracts visitors who come to see its majestic sequoia trees, granite cliffs, and breathtaking waterfalls.
Zion National Park in southwest Utah features stunning red cliffs, waterfalls, forests, and the Emerald Pools.
Boston National Historical Park in Boston, Massachusetts, includes eight historic sites highlighting Boston's role in the Revolutionary War.
Everglades National Park in south Florida has 1.5 million acres of wetlands in the largest subtropical wilderness in the U.S.
Yellowstone National Park spans Wyoming, Montana, and Idaho and features majestic canyons, alpine rivers, hot springs, and numerous wildlife species.
To see the full list of the most visited National Parks and over 50 bucket lists of the most popular experiences and destinations in the world, download Visited on iOS or Android.
To learn more about the Visited app, visit https://visitedapp.com.
About Arriving In High Heels Corporation
Arriving In High Heels Corporation is a mobile app company with apps including Pay Off Debt, X-Walk, and Visited, their most popular app.
Source: Arriving In High Heels Corporation