Visited Releases List of Top 10 Most Popular Wine Regions
Press Release
•
Oct 12, 2022
Travel App Visited Highlights the Most Visited Wine Regions in the World Based on International Travelers Data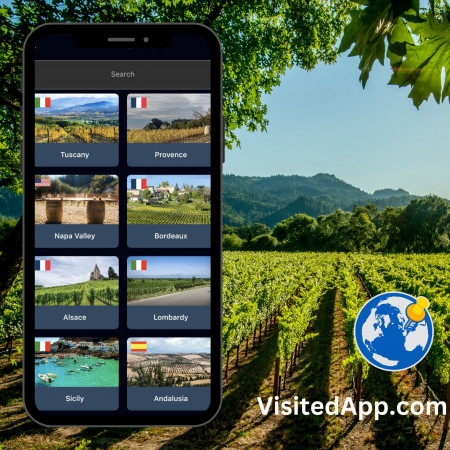 TORONTO, October 12, 2022 (Newswire.com) - The travel app Visited by Arriving In High Heels Corporation has published a list of the top 10 most visited wine regions in the world.
Visited, available on iOS or Android, is a top travel app that is used by international travelers to see their travel progress. Visited allows users to check off places they've been, map their travel journeys, see customized travel stats, discover new destinations, and get their personal travel map printed.
The most popular wine regions are mainly in Europe, including the birthplaces of Champagne and Bordeaux, however, Napa Valley makes it to the top 3. The top 10 most visited wine regions include:
Tuscany, Italy is world-renowned for its wine and produces some of the best red wines, with vineyards that offer rich and smooth Chianti, Vino Nobile be Montepulciano, and Brunello di Montalcino.
Provence, France in the scenic south of France serves up beautiful vineyards and delectable rose and red wines.
Napa Valley, California is the most popular wine region in the U.S., with picturesque vineyards and rich wine flavors.
Bordeaux, France is a world-renowned wine region that produces the legendary Bordeaux red wines.
Alsace, France is a breathtaking wine region that produces some of the best Riesling and sparkling wine.
Lombardy, Italy wine region is renowned for Franciacorta sparkling wine and red Valtellina.
Sicily, Italy is the largest wine-producing region in Italy, with three main types of red grapes grown for magnificent wines, ranging from the sweet Malvasia to the robust Frappato.
Andalusia, Spain is home to the famous fortified wine, Sherry.
Emilia- Romagna, Italy is an expansive wine region in northern Italy that produces both red and white wine.
Champagne, France is one of the most popular wine regions due to its signature wine - Champagne, a sparkling wine that is only made in the Champagne area.
To see the full list of the most visited wine regions and over 50 bucket lists of the most popular travel destinations in the world, download Visited on iOS or Android.
To learn more about the Visited app, visit https://visitedapp.com.
About Arriving In High Heels Corporation
Arriving In High Heels Corporation is a mobile app company with apps including Pay Off Debt, X-Walk, and Visited, their most popular app.
Contact Information
Anna Kayfitz
Source: Arriving In High Heels Corporation