Visited Publishes Top 10 Most Visited Churches as per International Travelers
Press Release
•
Jun 13, 2023
Visited has published a list of top 10 most popular churches around the world, based on their user's data.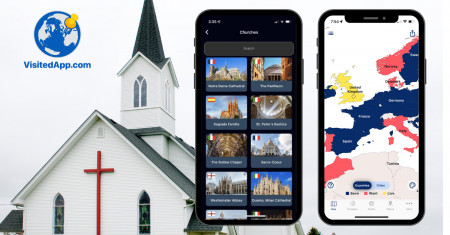 TORONTO, June 13, 2023 (Newswire.com) - The travel app Visited by Arriving In High Heels Corporation has published a list of the top 10 churches to visit in the world. "It is not surprising that the top 10 list are found exclusively in western Europe, with Notre Dame Cathedral in Paris topping the list. Churches are important indicators of culture not just from religious perspective but from historic and architectural significant," said Anna Kayfitz the founder and CEO of Arriving In High Heels Corporation.
Visited, available on iOS or Android, and is available in 30 languages which has attracted over 1.7 million users world wide. The app allows users to map their journeys with a personalized map of countries, states and cities they have been to or wish to visit in the future. For those looking for inspirations, you can check off famous sites and experiences from travel lists, or swipe through travel photos to uncover new places to visit and add to their bucket lists.
The top 10 church destinations in the world based on popularity include: Notre Dame Cathedral, Pantheon, Sagrada Familia, St. Peter's Basilica and Sistine Chapel. Other travel lists based on religion's includes most visited synagogues, top 10 mosques, top 10 temples and monasteries. The travel app, has over 100 travel lists to choose from.
To browse more top travel lists, see the most popular destinations, and create a personalized travel map, users can download Visited on iOS or Android.
Get the full Visited 2022 travel report for more travel stats with the most visited destinations based on U.S. and international travelers. To learn more about the Visited Map App, visit https://visitedapp.com.
About Arriving In High Heels Corporation
Arriving In High Heels Corporation is a mobile app company with apps including Pay Off Debt, X-Walk, and Visited, their most popular app.
Source: Arriving In High Heels Corporation