Visited Publishes Least Visited Countries by Americans
Press Release
•
Aug 30, 2022
Visited, the travel app, has published the 10 least frequented countries by Americans. Visited App allows users to map their travel journey and tick off famous places on the list features, including art museums, ancient sites and other lists.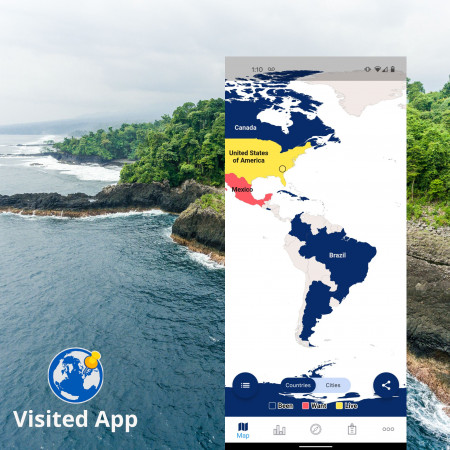 TORONTO, August 30, 2022 (Newswire.com) - The travel app Visited, which was developed by Arriving In High Heels Corporation, has published the least visited countries by American travelers. Visited also allows users to map all the countries they have been to or wish to travel to. Users can also check off famous destinations such as ancient sites, world most beautiful beaches, art museums, capitals of the world and much more. The app which users can download for free is available on both iOS and Android platforms.
The 10 least visited countries by US Travelers are found on two continents Oceania and Africa, and include:
1. Nauru (Oceania) - Narua is a small island, it is the least visited county by Americans.
2. Tuvalu (Oceania) - Just like Narua, Tuvalu is a small island with a population of 10,000 lacks the travel infrastructure for the general American traveler.
3. Comoros (Africa) - This least visited country in Africa, has some of the worlds most beautiful forests and snorkeling in the region, and without the tourists this can be the perfect off the beaten path destination.
4. Sao Tome and Principe (Africa) - Is another example of remote island in Central Africa off of Gabon that is rich in corals, rainforests and beaches with very few travelers to ruin its tranquility.
5. Equatorial Guinea (Africa) - Not only does Equatorial Guinea is a country that is part of African mainland it has 5 volcanic offshore islands. It also boosts a fairly rich wild animal sighting including Gorillas and Chimpanzees.
6. Eritrea (Africa) - Most likely avoided by travelers due to its unpopular regime which has been compared to North Korea in the Middle East.
7. Kribati (Oceania) - This nation is on a path to disappear due to the climate crisis, with 2 of its islands already sinking in 1999.
8. Mauritania (Africa) - 90% of the country is found in the Sahara desert, while not a small country it is rarely visited.
9. Solomon Islands (Oceania) - Despite having a US Memorial and other WWII sites, it is rarely visited by Americans.
10. Gabon (Africa) - Home to 2.3 million people, it is rich in coastal plains, mountains and Savanna desert, but not as rich in tourists.
To learn more about the Visited app and its latest feature update, please visit https://visitedapp.com.
About Arriving In High Heels Corporation
Arriving In High Heels Corporation is a mobile app company; Visited is its most popular app. For inspiration on travel destinations, travel stats and the latest travel news, follow Visited's Travel Blog.
Contact Information
Anna Kayfitz
anna@arrivinginhighheels.com
Source: Arriving In High Heels Corporation