Visited App Releases List of Most Popular Snorkeling Destinations in the World
Press Release
•
Oct 25, 2022
Travel App Highlights the Most Popular Snorkeling Destinations based on user's travel preferences.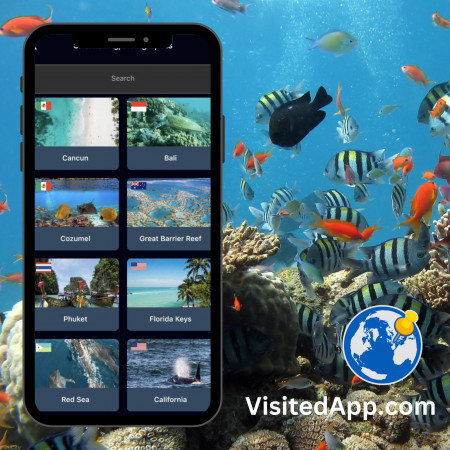 TORONTO, October 25, 2022 (Newswire.com) - The travel app Visited, published by Arriving In High Heels Corporation has released a list of the top 10 most popular snorkeling destinations in the world.
Visited, available on iOS or Android, is a popular travel app with international traveling users. The app allows users to mark off places they've visited, see a custom map of their travels, discover new destinations, set travel goals, and get a personalized printed travel map.
The top 10 snorkeling destinations in the world according to Visited include:
Cancun, Mexico is the most popular snorkeling destination, with expansive coral reefs and a wide variety of marine life in the Caribbean.
Bali, Indonesia has beautiful beaches and hundreds of different marine species. Bali is part of the Coral Triangle, which has 75 percent of the world's marine life, with almost 600 species.
Cozumel, Mexico offers abundant coral reefs in the warm waters of the Caribbean.
Great Barrier Reef, Australia has the world's largest coral reef and is one of the Seven Natural Wonders of the World.
Phuket, Thailand has crystal-clear waters and ample marine life for snorkeling.
Florida Keys, United States features pristine waters and beautiful snorkeling opportunities.
Red Sea is a saltwater inlet of the Indian Ocean with clear reefs and plentiful sea life for snorkeling off the coast of Egypt.
California, United States features 840 miles (1,352 km) of stunning coastline with snorkeling in many places, including Glass Beach and Monterey.
Cenotes, Mexico has thousands of cenotes - deep water wells - with beautiful snorkeling off the coast of the Yucatan Peninsula.
Phi Phi Islands, Thailand is a group of 6 islands with clear waters and a wide range of marine life that are part of the Coral Triangle.
To see the complete list of the most popular snorkeling destinations and over 50 lists of the top places to visit, download Visited on iOS or Android. Find out more about the top worldwide destinations on the Visited blog.
To learn more about the Visited app, visit https://visitedapp.com.
About Arriving In High Heels Corporation
Arriving In High Heels Corporation is a mobile app company with apps including Pay Off Debt, X-Walk, and Visited, their most popular app.
Contact Information
Anna Kayfitz
Source: Arriving In High Heels Corporation