Visit Detroit Sets Industry Standard for Destination Organizations With New Website
Press Release
•
Jun 5, 2023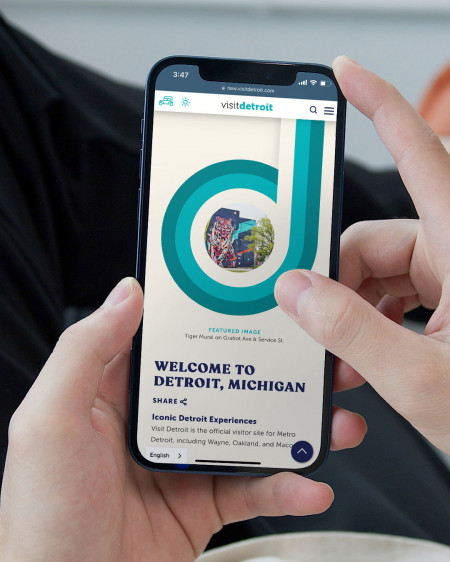 DETROIT, June 5, 2023 (Newswire.com) - Developed in partnership with Tempest — a leading website, CRM and digital solutions provider for the Destination Marketing industry — Visit Detroit has officially launched a bold new vision for VisitDetroit.com that channels the essence of Detroit's personality and signature experiences to travelers and event planners with captivating new visuals and improved functionality.
The new VisitDetroit.com features modern, experiential design elements that pay tribute to Detroit's rich cultural heritage, including iconic line art, halftone imagery and typography that draws parallels to Motown albums and music-themed brands. High-resolution imagery remains a primary focus to better leverage Detroit's unique experiences, while customizable, circular icon scrollers showcase the diversity of activities through campaign-style visuals.
Functionally, the new website benefits from a refined information architecture optimized for organic search that aids in content discovery through search engines and site navigation. A dynamic and responsive site search — enhanced and personalized with artificial intelligence (AI) — populates results in real time, efficiently connecting travelers and meeting planners to local businesses and Visit Detroit partners. Industry-leading mapping functionality further elevates website content, aiding users with effortless navigation of Metro Detroit's neighborhoods, top attractions, meeting venues, restaurants and experiences.
"We're thrilled to officially unveil this bold new vision for Visit Detroit, which authentically showcases our city's spirit with unparalleled functionality that will aid, inspire, and attract a worldwide audience," stated Claude Molinari, President & CEO of Visit Detroit. "The improved functionality will better spotlight the vibrant businesses, attractions, individuals and events that form the fabric of our city and region."
"It has been a pleasure working alongside the team at Visit Detroit to deliver this best-in-class digital experience, which will serve as an invaluable asset for the community of Detroit," said Gregg Shapiro, President & Chief Creative Officer of Tempest. "The new VisitDetroit.com captures what makes Detroit such a unique destination and sets a new standard for destination websites moving forward."
"Visit Detroit was grateful to partner with Tempest to create an immersive digital experience that reflects the vitality of our region," said Stan Smith, Sr. Director of Marketing for Visit Detroit. "By focusing on how users can easily engage with content, the new website is designed to capture the imagination of our audience and move them to Detroit."
###
About Visit Detroit:
Visit Detroit is a private, not-for-profit organization whose mission is to market and sell the metropolitan Detroit area on a worldwide basis as a destination for leisure and business travel including conventions, trade shows, corporate meetings, tours and incentive travel to maximize additional visitors, visitor expenditures, state and local tax revenues and job opportunities.
More than 700 businesses are represented in Visit Detroit's membership. Visit Detroit was founded in 1896 as the world's first convention and visitors bureau. visitdetroit.com
About Tempest:
Tempest provides CRM, Web and Digital Marketing solutions that empower innovative Destination Organizations to grow and make a positive impact in their communities. www.tempest.im
Source: Tempest