Visa Partners With HOOCH to Enhance Its Industry-Leading Hong Kong Offers Program
HOOCH subscription drinks app offers exclusive perks to cardholders
Press Release
-
updated: Sep 19, 2017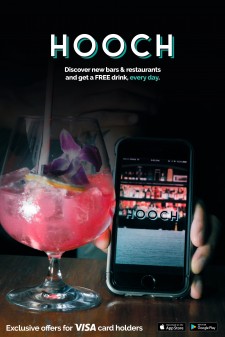 HONG KONG, China, September 19, 2017 (Newswire.com) - HOOCH, the leading subscription cocktail app has partnered with Visa Hong Kong to offer exclusive perks to millions of cardholders — including access to free drinks at high-end venues, member events and secret parties — on its popular app that gives users a free drink every day for only HK$88.88 per month.
In an upgrade to its suite of offerings, Visa promotes exclusive deals from top brands like HOOCH, Starwood Hotels, Hyatt, Ritz-Carlton, and the Mandarin Oriental to millions of increasingly tech-savvy cardholders with whom HOOCH resonates. Under the partnership, cardholders can purchase HOOCH for themselves or share the love of cocktails by sending a gift subscription to friends and family.
HOOCH's user base, now numbering over 135,000, enjoys drinks at over 500 bars & restaurants globally in nine cities including Hong Kong, all equally accessible to members, and with additional venues and cities soon to come. In Hong Kong, Visa cardholders can now enjoy a free drink every day at local hot spots including The Pawn, Lily & Bloom, Honi Honi, Little Creatures, and Zuma, to name a few. Under the exclusive Visa deal, HOOCH offers "buy-one-get-one-free" on the first month for new members as well as six- and 12-month memberships at up to 35 percent off, an amazing value as drink prices continue to rise.
"Visa Hong Kong's platform is a world-class hub for curated experiences, which syncs perfectly with the cocktail society culture and memorable events HOOCH is known for," says HOOCH CEO Lin Dai. "We are thrilled that Visa selected HOOCH to join their premier lineup of brand partners, and we look forward to sharing unique HOOCH experiences with millions of Visa members in Hong Kong and beyond," adds Dai.
HOOCH's Visa membership offers are available here.
ABOUT HOOCH
Members get one free drink every day at over 500 of the world's top cocktail bars, elite lounges and premier restaurants, in cities including New York, Los Angeles, Miami, Dallas, Austin, San Diego, Phoenix, San Francisco, and Hong Kong.
PR Contacts
Steve Isaacson
Steve@Hooch.co
Jordan French
Jordan@notabilitypartners.com
Source: HOOCH
Share:
---
Categories: Restaurants, Bars, and Catering, Credit Services, Arts and Entertainment
Tags: best apps of 2017, hong kong, hooch, hooch app, hooch partner, subscription drinks, subscription drinks app, visa hong kong, visa partner, visa partnership
---