Virtual Distance International (VDI) Announces Initial Private Placement to Fund Transition to Software-as-a-Service Provider
Press Release
•
updated: Nov 7, 2017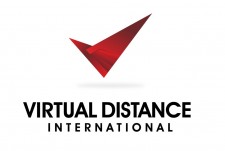 NEW YORK, November 7, 2017 (Newswire.com) - Virtual Distance International (VDI) today announced it has received an initial private placement to fund the company's transition from a provider of consulting services to a software company, leveraging the company's groundbreaking Virtual Distance Analytics for workplace transformation.
The amount of the placement was not disclosed, but lead investor Stephen D. Weinroth said the amount is sufficient to help the company develop more customers, build its second software product, hire at least a dozen people in the first year and open a New York office. In addition to leading the investment team, Mr. Weinroth is serving as Chairman of VDI's Board of Directors.
VDI founder and CEO, Dr. Karen Lojeski, said the company's shift to a software-as-a-service (SaaS) model is being driven by customer demand to use VDI's exclusive Virtual Distance Analytics to drive dramatic improvements in workplace productivity, business profitability, collaboration and innovation.
"The exponential growth of digital communication technologies is transforming the workplace at a pace we've never seen before," Dr. Lojeski said. "In order to succeed, organizations need their employees, customers and partners to communicate and collaborate effectively using modern technologies — including cloud computing, social networking and digital devices."
While rising productivity and the ability to reach across continents to leverage the best talent are among some of technology's many advantages, there are unintended consequences to social relationships which translate into measurable challenges for leadership. "The explosive expansion of digital communications and collaboration is creating a corresponding rise in Virtual Distance, which is the measurable disconnect that occurs when people rely heavily on smart, digital devices to communicate, no matter where they are located," Dr. Lojeski added.
As the amount of Virtual Distance increases, organizations experience sharp declines in performance, productivity, innovation, trust, engagement and job satisfaction. Employees can become less motivated, projects often miss deadlines and leadership effectiveness lags. "For example, we've seen Virtual Distance result in a $3 million business loss on just one of dozens of IT projects at one of our customers," Dr. Lojeski said. "But by harnessing the power of Virtual Distance Analytics, organizations can not only eliminate these potential problems, they can revitalize their teams, strengthen core competencies and cultivate long-lasting competitive advantage."
VDI was launched as a consultancy about a decade ago while Dr. Lojeski was working toward her Ph.D. at Stevens Institute of Technology. Her award-winning discovery then took her to Stony Brook University where she was an Assistant Professor in the Department of Technology and Society. From the time of her discovery to now, VDI has worked with dozens of Fortune 500 companies across all industries to identify, measure, analyze and reverse the impact of Virtual Distance across businesses, workgroups, teams and individuals. In that time, VDI has helped organizations dramatically improve productivity, morale, profitability, performance, innovation and on-time delivery of new products and services.
The advanced analytics that are at the core of the company's success as a consultancy are now the foundation of its new SaaS business model. Leveraging predictive analytics based on more than 40,000 data (and growing), VDI solutions help organizations transform Virtual Distance from a potential problem into a competitive business advantage. VDI's new Virtual Distance Management SaaS solutions enable customers to:
-Identify areas in their organizations where Virtual Distance is affecting productivity, performance, product development or other critical areas of business operations.
-Leverage advanced analytics to measure the impact of Virtual Distance in specific areas of the business or across the entire enterprise and its surrounding ecosystem.
-Reduce Virtual Distance by leveraging company-specific metrics and applying best practices that have been tested, validated and proven for more than a dozen years in the field.
-Manage Virtual Distance to improve productivity, support employees at all locations, enhance collaboration and drive speed-to-market, innovation and digital disruption.
-Predict where Virtual Distance may occur in the future to make teams more productive and avoid traps that can make digital collaboration ineffective.
"The dynamic growth of digital communications makes this an exciting time to be in business, but also a challenging time," said Mr. Weinroth. "With advances such as digital transformation, social networking, big data analytics and globalization, forward-thinking companies can disrupt industries. But, to do so, they must address the very real impediments that Virtual Distance can create. VDI, under Dr. Karen Lojeski's leadership, is poised to be a powerful force in enabling workplace transformation and business innovation."
In addition to Weinroth, VDI has the backing of other prominent visionaries in business and technology, including board member Charles "Chuck" House and strategic advisory board member Dr. Irving Wladawsky-Berger. Mr. House is an icon in the technology industry, having started multiple divisions and serving as Chief Engineer at HP, a senior executive at Intel and the Director of Stanford MediaX Lab. Dr. Wladawsky-Berger spent 37 years at IBM where he led a number of companywide initiatives including the internet and e-business, supercomputing and Linux, and now serves as a visiting lecturer at MIT's Sloan School of Management, a fellow of MIT's Initiative on the Digital Economy and is a member of the advisory board of Imperial College's Data Science Institute. "I am very excited to help VDI address the challenges companies and individuals are facing in effectively using digital technologies to collaborate," said Mr. House. "Technology can be a powerful enabler, but we must always remember the human factor. With Virtual Distance Management solutions, VDI is giving organizations the technology and tools to make human interactions more compelling, collaborative and comfortable in this time of great change and opportunity." Dr. Wladawsky-Berger adds, "Over the course of history, breakthrough communication technologies have effectively been leveraged to move us from the agricultural age to the industrial age and now into the digital age. Each of these transitions came with both unprecedented advancements as well as some growing pains. With the introduction of VDI's SaaS offering, organizations will now have the analytics and solutions needed to address one of the most vexing digital age challenges; 'relearning' appropriate social skills in the context of today's technological world."
About Virtual Distance International
Virtual Distance International is a New York-based provider of software-as-a-service solutions for workplace transformation. Founded as a consultancy in 2004 by Dr. Karen Lojeski, VDI now provides software solutions built on its groundbreaking Virtual Distance Analytics platform. VDI's client and partner base consist of dozens of Fortune 500 companies, educational institutions and policy organizations. They include Coca-Cola, Bank of America, Alcatel-Lucent, Merck, The Stockholm School Economics, the Wharton School of Business, The United Nations, the World Economic Forum and many others.
About Dr. Karen Sobel Lojeski
Dr. Karen Sobel Lojeski is the Founder and CEO of Virtual Distance International (VDI), a software company specializing in Workplace Transformation powered by Virtual Distance Analytics. Dr. Lojeski began as a Systems Engineer with a B.S. in Computer Science and Applied Mathematics. She also held leadership positions at major corporations including Chase Manhattan Bank, Stratus Computer, and Mercer Consulting. Karen then earned her Ph.D. from Stevens Institute of Technology where her thesis, "Virtual Distance: A New Model for the Study of Virtual Work" won Outstanding Dissertation of the Year in 2006.
Dr. Lojeski has been featured in top media outlets including the AP, Wall Street Journal, Harvard Business Review, BusinessWeek, Fortune, CBS News, The Brian Lehrer Show, NPR and more. She is the author of two books, "Uniting the Virtual Workforce" and "Leading the Virtual Workforce" and is now working on her third book. Dr. Lojeski is also a faculty in Stockholm School of Economics' Executive Education and is affiliated with several other major universities. Her engaging speaking style also makes her a highly sought-after talent at major conferences worldwide.
About Stephen D. Weinroth
Mr. Stephen Weinroth is a Director of Hovnanian Enterprises, Inc. He has been the Chairman of five public companies and Chief Executive of three. He also serves on the board of several other private companies. Mr. Weinroth is a former investment banker and private equity investor. He began his career at Loeb, Rhoads & Co. He served as Managing Director at Drexel Burnham Lambert, running the Commitment Committee for many years. While at Drexel, he started and ran the International Investment Banking business, and the Commercial Paper business. He founded and became Chairman, Chief Investment Officer, of a UK mezzanine investment fund. He ran the bankruptcy of Integrated Resources for three years before leaving to become a private equity investor. He was Chairman of Core Laboratories, NV (NYSE) an extremely successful buyout. He was also Chairman and Chief Executive of Cyalume Technologies, Inc. Mr. Weinroth is also on the Board of the Joyce Theater Foundation (past Chair), Vice Chair of the Paul Taylor Dance Foundation, and is Chair and Chief Executive of the Central Asia Education Foundation, which provides scholarships to needy students in Central Asia to attend college. Virtual Distance is a registered trademark of Virtual Distance International LLC.
For More Information Contact:
Dr. Karen Lojeski, Founder and CEO – klojeski@virtualdistance.com or call 631.509.6490
Stephan Klaschka, COO – klaschka@virtualdistance.com or call 631.509.6490
Source: Virtual Distance International
Related Media
Tags
Additional Links