Virto Commerce Launches Virto Marketplace
Press Release
•
updated: Mar 23, 2022
Following increased demand for marketplace solutions, Virto Commerce announces the launch of its new product, Virto Marketplace.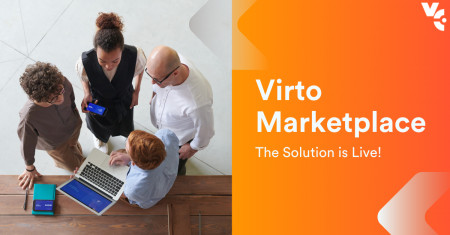 LOS ANGELES, March 23, 2022 (Newswire.com) - Virto Commerce, a leading provider of B2B digital commerce solutions, announces the launch of a new product, Virto Marketplace. Virto Marketplace helps enterprises to scale and incorporate new business models.
Virto Marketplace supports both first and third-party marketplace models and connects to virtually any existing e-commerce solution without re-platforming. The resulting solution can be further adapted, extended, or recomposed to accommodate different marketplace requirements and business scenarios.
"To solve customers' pain points, B2B e-commerce solutions need to provide a wider assortment of products than those available in a single category. Building multi-category and marketplace experiences should be possible for every business, regardless of size and scale. We are delighted to bring this adaptable new solution to the market and respond to this emerging trend," says Denis Clifford, Chief Customer Officer at Virto Commerce.
"Seeing the demand for marketplaces among our customers, Virto Commerce has built a full-fledged composable marketplace solution," says Evgeny Grigul, cofounder and VP of Virto Commerce. "During the last few years, Virto's customers, such as Bosch Thermotechnik, Leventus, or Giift, have been successfully building marketplace solutions out of existing Virto's modules. However, Virto still lacked a standalone, complete marketplace application. We've fixed that with Virto Marketplace."
"Virto Marketplace's main advantage is that it can be integrated with any e-commerce solution," says Andrey Artiomov, Virto Marketplace Product Owner. "So, if a company wants to extend its business model to include third-party sellers but is unable to do so because of the limitations of its existing solution, we can help! Virto Marketplace allows them to extend virtually any first-party e-commerce solution to a third-party marketplace without re-platforming."
Virto Marketplace can handle millions of products, thousands of vendors, and an unlimited number of buyers. In addition to essential e-commerce out-of-the-box features, Virto Marketplace comes with vendor- and operator-specific functionality. Owing to its headless and API-driven nature, Virto Marketplace can create truly memorable shopping experiences that scale.
Mary Gabrelyan, Chief Marketing Officer at Virto Commerce, wraps up the product's launch by saying, "Technology must make life easier and more affordable. Virto Marketplace is our answer to e-commerce's greatest woes. With Virto Marketplace, you can forget about re-platforming; Virto can extend your existing solution at a modest price and ensure business continuity across the board."

Virto Commerce, founded in 2011 by industry experts, is a leading provider of B2B digital commerce solutions. As a Microsoft Gold Partner, the company serves more than 100 businesses worldwide and has offices in five countries. Virto Commerce's flagship product, the cloud-based e-commerce, open-source .NET platform, is the only B2B-first headless digital commerce solution designed to adapt to complex scenarios common in the B2B market.
Source: Virto Commerce