Viennese Anti-Drug Volunteers Support U.N. Convention on the Rights of the Child
Press Release
•
updated: Jul 18, 2017
The Austria chapter of the Foundation for a Drug-Free Europe brings the country's drug prevention strategy to life in the streets of Vienna.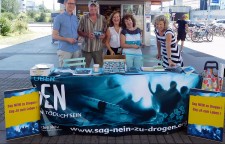 Vienna, Austria, July 18, 2017 (Newswire.com) - ​In Vienna, home to the United Nations Office on Drugs and Crime, Foundation for a Drug-Free Europe volunteers reach out to help protect youth from the ravages of drug addiction.
In 2013, a study on the cost of drug dependency estimated that the use of illicit drugs in Austria results in an annual cost of EUR 278 million. This comprises healthcare expenditure (EUR 135 million), social expenditure (EUR 51 million) and state expenditure (for police and court activities) (EUR 96 million).
Austria's Addiction Prevention Strategy, adopted in 2016, lists "prevention of addiction" as the first of a three-step strategy to address drug issues in the nine provinces of the nation.
The European Monitoring Centre for Drugs and Drug Addiction describes the main objectives and features of this prevention policy: to expand prevention measures to broader areas of social life, especially those that are relevant to young people and to implement curricular school-based prevention programs aimed at improvements in the school environment, and strengthening students' resilience, psychosocial skills and life skills.
The Foundation's Truth About Drugs initiative aligns perfectly with these aims. It has created 14 youth-friendly booklets and public service announcements on the most commonly abused drugs, and a documentary also covering these substances. And these resources are organized into an entire curriculum with an Educator's Guide that makes it very easy to implement the program in a classroom setting.
The Foundation volunteers also bring the drug-free message to the streets of their city, setting up information booths and encouraging people to read the booklets. At one recent event, they invited passers-by to splurge on their own creativity by painting an anti-drug message on large banners promoting drug-free living.
The campaign has been embraced by hundreds of entities including city governments, schools, military and police organizations, sports clubs and community and religious leaders. Scientology Churches and Scientologists support the program, making its materials available free of charge to those wishing to use it to educate others on the truth about drugs.
According to the United Nations Office on Drug Abuse and Illicit Trafficking, "Every dollar spent on prevention can save governments up to ten dollars in later costs."
For more information, visit the Scientology Newsroom.
Source: ScientologyNews.org
Related Media