Vibrant Wellness Unveils Groundbreaking Toxin Genetics Test for Personalized Detox Protocols
Press Release
•
updated: Sep 24, 2023
Vibrant Wellness introduces the Toxin Genetics Test, a cutting-edge addition to its suite of advanced functional lab tests. This revolutionary tool assesses genetic biomarkers pivotal to the body's detox process, aiding healthcare professionals in designing individualized detoxification plans.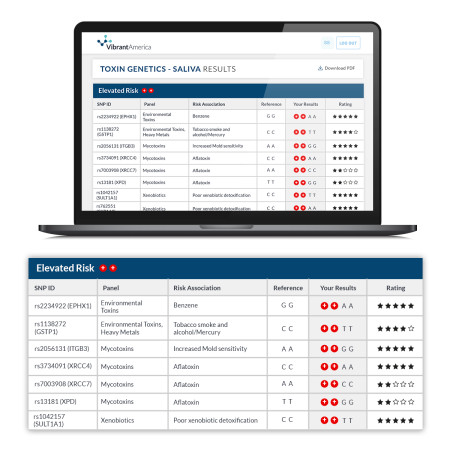 SANTA CLARA, Calif., September 22, 2023 (Newswire.com) - Vibrant Wellness, a pioneer in advanced wellness lab testing, today announced the launch of its groundbreaking new product: the Toxin Genetics Test. This innovative lab test is the latest addition to Vibrant's comprehensive menu of tests designed to identify potential health risks and guide personalized healthcare solutions.
https://www.vibrant-wellness.com/test/ToxinGenetics
"With the Toxin Genetics Lab test, we've made a significant stride in the field of personalized risk stratification for toxin exposures," said lab director Dr. Mervyn Sahud. This novel test evaluates over 20 SNPs related to phase 1 and phase 2 detoxification pathways using high-sensitive PCR methodology. These SNPs are associated with increased risk of impaired detoxification capacity of PFAS, heavy metals, mycotoxins, and environmental toxins.
This revolutionary test works by assessing specific Single Nucleotide polymorphisms (SNPs) related to the body's metabolic detoxification process. These genes play a crucial role in modifying mechanisms which help in detoxifying the body, and abnormalities in these genes may lead to an impaired detoxification process.
The Toxin Genetics Test is not the only tool Vibrant offers related to toxicity. The company's portfolio of advanced lab tests also includes panels for Urinary environmental toxins, heavy metals, mycotoxins, PFAS chemicals, and more.
"With the launch of the Toxins Genetics Lab Test, we further affirm our commitment to enable healthcare providers to discover the root of patient health issues," Dr. Sahud continued. "Through our precision lab tests, we aim to understand the connectedness between your genetics, lifestyle, and environment."
Vibrant Wellness lab tests are available to wellness providers through Vibrant Wellness and its healthcare eCommerce platform, Well ProZ.
About Vibrant Wellness: Vibrant Wellness is a leading biotech company based in Santa Clara, California. As a CAP-accredited and CLIA-certified organization, Vibrant delivers life-transforming lab testing that empowers health and wellness providers to identify the root causes of patient health issues. Leading the charge in modern medicine and research, Vibrant provides personalized health analytics using cutting-edge, high-quality technology. The company firmly believes that everyone can achieve better health and vibrant longevity through individualized solutions rooted in comprehensive testing.
For more information, please visit www.vibrant-wellness.com.
Source: Vibrant Wellness