Veterans for America First Ask Georgia Legislatures to Consider Restricting Drag Shows
Press Release
•
updated: Mar 10, 2023
Veterans for America First, aka Veterans for Trump, to meet with Georgia State Senator Jason R. Anavitarte on the issue VFAF President Stan Fitzgerald announced.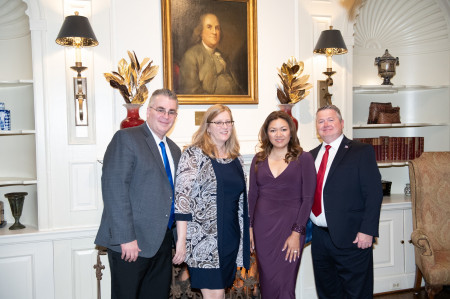 CUMMING, Ga., March 10, 2023 (Newswire.com) - Recently, Tennessee Republican Gov. Bill Lee signed a bill into law to limit "adult cabaret performances", putting age restrictions in place to ensure that children are not present at sexually explicit performances. Veterans for America First, aka Veterans for Trump, is a national organization https://veteransforamericafirst.org/ that recently launched a Georgia state chapter focusing on local conservative issues."
On April 23, the Forsyth County Georgia Senior Citizen Center in Cumming, GA, is hosting an all-ages family bingo run by drag queen Mrs. Ivana. The flyer for the event states "Join our kids dance contest".
VFAF Ambassador Cooper Guyon, who works at the state capital with GA Senator Jason R. Anavitarte, suggested exploring the possibility of legislation like Tennessee. Guyon has arranged a meeting with the Senator and the Vets organization to address the concerns of the citizens and community leaders who asked the Veterans group to get involved. "Senator Anavitarte has been a leader fighting for our conservative values," said Cooper Guyon.
"Our organization is not looking to prevent lawful gatherings; we are simply asking our state legislatures to look at the law Tennessee passed and consider similar for Georgia to further protect the children," said VFAF President Stan Fitzgerald.
Veterans for America First represents millions of conservative veterans and first responders. The organization has endorsed Donald J. Trump for the 47th President of the United States and is part of the Trump campaign coalition.
Attorney Jared Craig, the VFAF Georgia state chapter spokesman https://georgiavfaf.org/team/, will be working with VFAF Ambassador Hunter Hill on the logistics in Forsythe County assisting the community with their concerns. VFAF national media rep Angie Wong will be available for comment.
Source: Veterans For America First