Vetality by Tevra Brands Introduces Twist + Lick Oral Gel to Their Brush-Free Solutions Catalog
Press Release
•
Mar 19, 2022
Home dental care just got better and easier.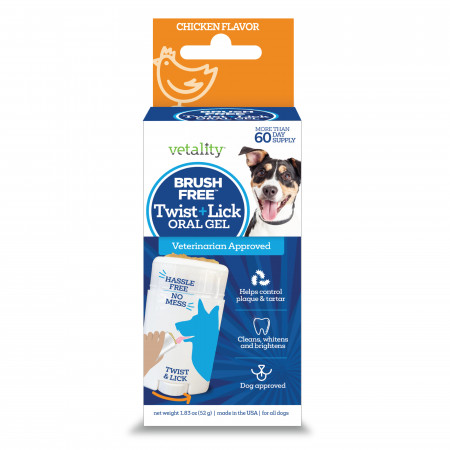 OMAHA, Neb., March 19, 2022 (Newswire.com) - Founded by veterinarians and pet industry experts, Tevra Brands continues to innovate and find proactive and effective solutions for dogs' dental health, expanding their current Vetality Brush Free catalog with Twist & Lick Oral Gel.
Packaged in a convenient, mess-free dispenser, Twist & Lick Oral Gel makes teeth cleaning effortless and the chicken flavor makes it delicious. The formulation includes vet-approved actives that help control plaque and tartar buildup to keep dogs' smiles white and bright. Each 1.83oz unit contains:
Chlorohexidine - Destroys 99% of germs
Baking Soda - Freshens breath
ProLong Technology™ - patented technology that bonds the gel to the gums and releases actives over time for long-lasting results
Just two clicks for dogs under 25 lbs or four clicks for dogs over 25 lbs delivers long-lasting quality dental care that will keep pets kissable for days.
Twist & Lick Oral Gel provides peace of mind to pet parents with a vet-approved formulation and easy-to-use dispenser, making it simple to create a stress-free dental routine and to ditch the toothbrush.
Twist & Lick Oral Gel is Made in the USA and will be available for sale starting March 15, 2022, atTevrapet.com, Vetality.com, Petsmart, and Amazon for $19.99.
For more information on Twist & Lick Oral Gel, visit www.Vetality.com.
About Tevra Brands
Tevra Brands was founded in 2016 by long-time veterans in the pet health industry, along with expert veterinarians. Their ongoing mission is to make quality health care solutions at an affordable price. To learn more, visit Tevrabrands.com, Vetality.com, and Tevrapet.com.
Media Contact:
Laura Weishaar l Director of Digital Content and Brand Strategy
Tevra Brands
Lweishaar@tevrabrands.com
Source: Tevra Brands
Related Files