Vertosoft Selected as Claroty's New Public Sector Distributor
Press Release
•
Apr 19, 2023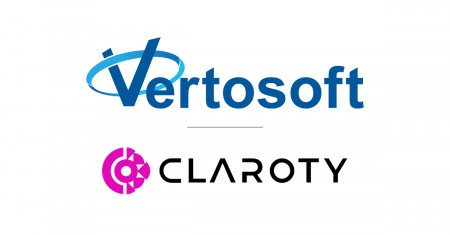 LEESBURG, Va., April 19, 2023 (Newswire.com) - Today, Vertosoft announced it has been selected by Claroty, the cyber-physical systems protection company, as its new public sector distributor. With this agreement, Vertosoft Partners and Public Sector customers will be able to safeguard against the ever-growing and persistent threat that cyber-physical systems (CPS) present to the Public Sector.
"We have seen a dramatic shift over the last year from our Public Sector Customers and Partners that are looking to better incorporate CPS into their current zero-trust cyber posture," said Josh Slattery, VP of Technology Sales at Vertosoft. "As a result, we are really excited about our partnership with Claroty as their CPS protection platform has already proven to be a differentiator in the public sector market in a short amount of time."
"The public sector is increasingly embracing CPS to modernize critical infrastructure, optimize public services, and strengthen defense efforts across broadly distributed physical sites. However, the connectivity that underpins these systems is also exposing them to complex risks," said Heather Young, RVP Public Sector at Claroty. "To overcome these challenges and ensure resilience, public institutions need specialized technology capable of securing all CPS within their environments — from operational technology (OT) assets, to building management systems (BMS), to commercial IoT devices — collectively known as the Extended Internet of Things (XIoT). With Vertosoft's proven success in helping federal agencies reap the benefits of emerging technology, we are making great strides to strengthen the security posture and overall resilience of the public sector."
Claroty's purpose-built cybersecurity controls empower agencies to identify, protect, monitor, and optimize XIoT assets leveraged by the U.S. government across critical infrastructure sectors. Its unified platform integrates seamlessly with agencies' existing infrastructure, providing them with unmatched visibility, risk and vulnerability management, threat detection, and secure remote access. Claroty allows agencies to meet the new guidelines set from the Binding Operational Directive 23-01 under CISA's Operational Directive requesting the improvement of asset visibility and vulnerability detection, as well as the requirements set forth by NERC-CIP, HIPAA, HITECH, cGMPs, relevant executive orders, and relevant directives from the TSA, CISA, the FDA, and various other federal agencies and regulatory or legislative bodies.
About Vertosoft
Vertosoft is a high-value distributor dedicated to providing the most coveted innovative and emerging technology solutions to the government. Our comprehensive solution portfolio coupled with our elite services provides channel partners and suppliers with the enablement, inside sales support, contracts, and compliant systems required to drive growth in the government market.
About Claroty
Claroty empowers organizations to secure cyber-physical systems across industrial (OT), healthcare (IoMT), and enterprise (IoT) environments: the Extended Internet of Things (XIoT). The company's unified platform integrates with customers' existing infrastructure to provide a full range of controls for visibility, risk and vulnerability management, threat detection, and secure remote access. Backed by the world's largest investment firms and industrial automation vendors, Claroty is deployed by hundreds of organizations at thousands of sites globally.
Source: Vertosoft