Vertical Gallery Celebrates 4-Year Anniversary With Street-Art Pioneer Blek Le Rat
Press Release
•
updated: Mar 20, 2017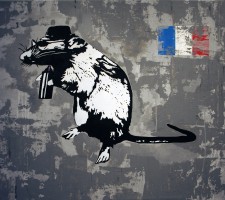 Chicago, IL, March 20, 2017 (Newswire.com) - Vertical Gallery, Chicago's premier urban-contemporary art gallery, celebrates their 4-year anniversary with Blek le Rat, the founder of the international stencil art movement. The exhibition "Ratical" is April 1 – 29, 2017, with an opening reception with the artist on Saturday April 1, 6:00 – 10:00pm.
Blek Le Rat (Xavier Prou) was born in Paris, France in 1951. Frequently called the godfather of modern street art, Blek le Rat inspired hundreds of artists around the world with his stenciled style. He is frequently cited as a major influence of artists like Banksy and Shepard Fairey; and through his work in Paris, he established a style of urban art that quickly spread through Europe and the United States.
Blek describes his early work as apolitical, explaining that he just wanted a way to stand out and to free himself from the feeling of anonymity caused by living in a major city. He was the first people to use stencils to make public art on the street using icons instead of writing his name. He started decorating the streets of Paris in 1981 with a rat stencil, hoping to create an invasion of rats - "the only free animal in the city", while creating a style that would suit Paris and not copy the American style. His street name is said to originate from a childhood cartoon "Blek Le Roc", also using "rat" as an anagram for "art".
He studied fine art and architecture at Beaux-Arts in Paris, graduating in 1982. Before his graduation, Prou visited New York City and developed a fascination with the city's graffiti and street art. "To me, the most interesting aspect of street art is the constant opportunities to be surprised and/or amazed. I lose interest when something becomes routine," said Blek.
Blek has created street art around the world, and has had exhibitions in Paris, London, New York, Milan, Melbourne, San Francisco, Munich, and Los Angeles.
Blek le Rat: Ratical
April 1 – 29, 2017
Opening reception with artist, Saturday, April 1, 6:00 – 10:00 pm.
Vertical Gallery, 1016 N Western Ave., Chicago
About Vertical Gallery:
Vertical Gallery is Chicago's premier urban-contemporary art gallery. Established in 2013 in the Ukrainian Village neighborhood, the gallery focuses on work influenced by street art, urban environments, graffiti, pop culture, graphic design and illustration. New monthly exhibits highlight significant emerging and established local, national and international artists. You may view and purchase past and current work either in the gallery space or online. Vertical Gallery also consults on creating personal and corporate collections, and secondary market artwork. The gallery is located in Chicago at 1016 N. Western Avenue, and online at www.verticalgallery.com . Gallery hours: Tuesday – Saturday, 11:00am – 6:00pm, or by appointment.
Media Contact:
Patrick Hull
patrick@verticalgallery.com
773-697-3846
Source: Vertical Gallery
Related Media