Versatrim Celebrates Its 25th Anniversary With A Focus On The Future
Press Release
•
Jun 6, 2023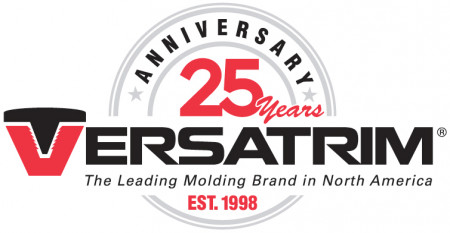 HENDERSON, N.C., June 6, 2023 (Newswire.com) - Versatrim, an award-winning company, is celebrating its 25th anniversary of serving the flooring industry with a full line of complementary products that allow people to enjoy the true beauty of flooring where they live, shop, or work.
"We work closely with our partners to offer 'Everything but the Floor' at the best value," said Keith Medick, President & CEO of Versatrim. "We are committed to expert coordination, best-in-class lead times, easy installation, and exceptional customer satisfaction!"
In its silver anniversary, Versatrim has introduced a number of new and exciting products and improvements including the RSN low-profile stair nose, VersaFlex flexible moldings, and their Versatrim adhesive. In the first quarter, they successfully launched their new mobile-friendly website. In the second quarter, they will launch a new e-Commerce online shopping platform with improved functionality and ease-of-use applications to help streamline the online order entry process. The new site highlights Versatrim's high-end product offering and enhances the customer journey. Versatrim has also made countless improvements to its manufacturing operations for safety and performance enhancements. On the horizon, Versatrim will focus on geographic expansion, more investment in manufacturing, and acquisitions to continue Versatrim's growth.
"The leadership team and I wish to express our sincere appreciation to our employees for their loyal support as we celebrate our silver jubilee milestone this year. We could not have come this far without the loyal support and hard work of each member of the Versatrim team and our loyal customers and partners. We look forward to the next 25+ years of industry-leading accomplishments!" said Medick.
The story of Versatrim began in September of 1998, when Thilo Hessler, then twenty-two, moved from Bavaria, Germany, to Raleigh, North Carolina, to start a molding business. With an intense drive and a passion to pursue a dream, Hessler started out taking orders by phone, packaging them himself, and then driving them to the local UPS office for delivery. Today, more than 100,000 orders ship from Versatrim's 134,000-square-foot facility each year, which sits on twenty-six acres. Over the years they have launched twelve different profiles into the market and our passion doesn't stop there.
About Versatrim
Versatrim, located outside of Raleigh, NC manufactures, sells, and distributes a complete line of custom-coordinated laminate floor molding and trim for laminate and vinyl flooring. Versatrim's innovative approach to molding solutions, and its ability to coordinate with most of the top colors in the vinyl, luxury vinyl tile, wood plastic vinyl, and laminate flooring industry, has guided it to the forefront as a leading manufacturer of floor moldings.
Source: Versatrim