Verity Studios® Drones Dance With Drake in Songs 'Elevate' and 'Look Alive'
The back-up dancers of the future: a swarm of Lucie® micro drones are on the road with Drake around North America.
Press Release
-
updated: Aug 21, 2018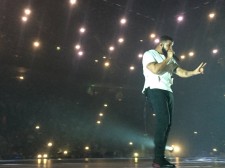 ZURICH, August 20, 2018 (Newswire.com) - ​Verity Studios AG, the global leader in indoor drone technology, announced today that swarms of Lucie micro drones are performing with Drake in his 2018 Aubrey & the Three Migos Tour.
Grammy award-winning Canadian artist Drake is one of the best-selling rappers of the 21st century. Performing to audiences of more than 50,000 people, his previous North American tour broke the record for the highest grossing hip-hop tour of all time. The Drake tour has now taken the record for the largest number of drones ever to tour with an artist. This was also a first for the Lucie micro drones, debuting with a rap artist on the back of touring with rock band Metallica.
Elevate, a song on Drake's new album Scorpion, opens with the micro drones swarming onto the stage to surround Drake in a cloud of lights to the roar of the audience. In another guest appearance, the Lucie micro drones create a glittering wave in the song Look Alive before forming a red 3D cross that rotates around Drake.
Raffaello D'Andrea, founder of Verity and co-founder of Amazon Robotics, said unlike many other show drones, Verity's drones are operated solely by the Drake tour staff and perform their choreographies autonomously.
"People often describe things they've never seen before as 'magic'. This is also how people talk about our drones when they see them live for the first time. By bringing robotics and AI to live events, we are creating magic. It's spectacular to see a swarm of drones performing a perfectly synchronized aerial ballet without a single drone pilot in sight. Of course, what's powering this performance is advanced technology, but when you sit in the audience, all you see is magic."
As part of its creative services, Verity employs drone choreographers and drone costume designers to bring its clients' visions to life. The creative concept for the drone choreography came from conversations with the Drake creative team.
"When the Drake team approached us, they said they wanted something that had never been seen before. Our drone choreographers worked in partnership with Drake's creative team to come up with various concepts for the show, like geometric shapes and drone tornadoes, before deciding on the final choreographies. What the teams created together is visually stunning. We relish pushing the boundaries of what's possible with our technology when pursuing our clients' creative visions," said D'Andrea.
Since it was founded in 2014, Verity has been bringing cutting-edge robotics and AI technology to live events. With over 30,000 flights under their belts, Verity's autonomous drones have performed in more than 20 countries and in a variety of venues, including on Broadway in Cirque du Soleil's Paramour and at the New York Knicks pre-game shows at Madison Square Garden.
To learn more about Verity and see videos of previous shows, visit www.veritystudios.com.
To attend the press event "Drake: behind the drones" in New York on Aug. 28, 2018, contact media@veritystudios.com
To purchase tickets or get more information about the 2018 Aubrey & the Three Migos Tour, visit www.drakeofficial.com 
ABOUT VERITY STUDIOS
Verity Studios is the global leader in indoor drone systems. Verity delivers indoor drone shows to the live event industry, working with clients that include Metallica, Madison Square Garden, and Cirque du Soleil. Its clients have completed more than 30,000 autonomous flights safely above people, across 20 countries worldwide. The Zurich-based private company was spun off from the Swiss Federal Institute of Technology (ETH Zurich) in 2014. Its founder Raffaello D'Andrea has more than 20 years of experience in the creation of flying machines and autonomous robots. He also was a co-founder of Boston-based Kiva Systems, which was acquired by Amazon in 2012 and is now operating as Amazon Robotics. More information is available at www.veritystudios.com.  
Media Contact:
Katie Cullen Montgomerie
+41 44 533 83 74
media@veritystudios.com
Source: Verity Studios AG
Share:
---
Categories: Music, High Technology, Consumer Electronics
Tags: aubrey and the three migos, drake, drake tour 2018, drone show, drones, flying lights, verity studios
---