Verde Solutions Partners With Catholic Climate Covenant to Launch Catholic Energies Program Nationwide
Press Release
-
updated: Oct 6, 2017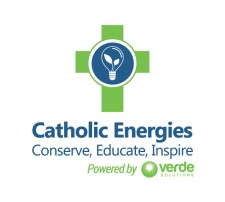 CHICAGO, October 6, 2017 (Newswire.com) - On Thursday, Sept. 28, Catholic Climate Covenant announced the national launch of its Catholic Energies (CE) program and partnership with Chicago based, Verde Solutions as its project implementation partner for this program nationwide.
As an award-winning, turnkey energy consulting firm, Verde Solutions brings the highest level of industry expertise and experience. "We are honored to work with the Catholic Climate Covenant to launch the Catholic Energies program. As a lifelong Catholic myself, I'm so blessed to give back to the Catholic community in a way that will have a lasting impact," said Verde Solutions CEO Christopher Gersch. "We are committed to the Catholic Energies program, and look forward to helping parishes across the country reduce their energy spending."
This unique and important program seeks to help eliminate waste from Catholic campuses (churches, schools, dioceses, hospitals and other organizations) through projects that reduce energy costs. The Catholic Energies approach is comprehensive and provides campuses with the ability to: invest in energy efficiency projects to reduce energy waste; buy cleaner, less expensive energy; and install renewable energy and storage systems to minimize campuses' dependence on the grid. The savings generated from these projects allow the campuses to divert what had been utility expenses to their core mission activities. In addition, engaged campuses will use the opportunity to help constituents understand Catholic teaching on the environment.
"Our vision is to make the U.S. Catholic Church the most energy efficient religious organization in the world," says Dan Misleh, founding executive director of Catholic Climate Covenant. "In this way, we will rise to meet the challenges outlined in Pope Francis' encyclical, Laudato Si', and be a witness to the communities in which we minister," he continued.
Studies show that 40% of energy use in buildings is wasted, meaning Catholic campuses and many other business owners are spending thousands of dollars each year on utility costs when they could instead be using that money to advance their core missions.
"There are more than 70,000 Catholic-owned buildings in the U.S. alone," says Dan Last, Chief Operating Officer for the Catholic Energies program. "The market is as enormous as the opportunities to cut waste, save money and be a witness to the wider community. The potential impact Catholic Energies can have could truly be a game changer by showing Catholics and non-Catholic alike that the economic and quality-of-life benefits these projects can have for communities are no longer out of reach."
Source: Verde Solutions LLC
Share:
---
Categories: Alternative Energy, Energy, Religion
Tags: Catholic Energies, Chicago, DC, Energy Efficiency, Energy Partner, Energy Program, Nationwide, Washington
---