Velixo Unveils Its Solution for Sage Intacct at Sage Partner Summit 2023
Press Release
•
May 30, 2023
Unlocking new ways of reporting, budgeting, and automating manual tasks right inside Excel to achieve significant outcomes and efficiencies.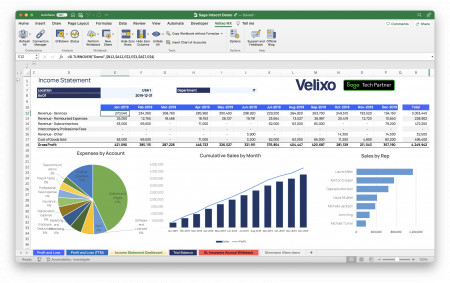 LAS VEGAS, May 30, 2023 (Newswire.com) - Velixo, an industry leader and provider of ERP reporting and budgeting solutions in Excel, last week announced the availability of its solution for Sage Intacct at Sage Partner Summit.
Now, more than ever, businesses depend on accountants, the office of FP&A as well as their operational teams to be agile and self-sufficient. Armed with the right tools to meet their corporate statutory requirements and day-to-day jobs, they are looking at making decisions based on accurate and up-to-date data, reducing IT involvement, becoming more efficient and eliminating manual processes by automating their reporting, budgeting, and data entries.
As a self-service Excel add-in, Velixo offers users a seamless, real-time reporting and planning experience within the Excel they love, while offering full governance, desktop, or online pixel-perfect deliveries.
Built specifically for Sage Intacct, the Velixo integration boasts easy-to-use and highly flexible Accelerator functions, real-time reporting, live exploration and writeback of Journals, Budgets, and other data such as Project forecasts directly into Sage Intacct.
Gabriel Michaud, Founder at Velixo, says: "Sage Intacct is a leading and modern ERP and, combined with Velixo, it helps users seamlessly connect their cloud ERP with their Excel on desktop or online, without compromising on governance. We built our integration from the ground up for Sage Intacct, it is the result of two years of R&D investment and our first deployments to Sage Intacct customers have confirmed the benefits that thousands of other Velixo customers have already achieved."
Melodi Williams, VP of Sales, and Operations for Sage Intacct at Sage, says: "The partnership between Sage and Velixo enables our joint customers to take a big step forward towards accelerating business outcomes through enhanced data visibility, efficiency and automation using Excel, which many organizations heavily rely on."
Rob Wood, CFO and Sage Intacct user at Yardnique, says: "Velixo has been a game changer, it is phenomenal and exactly what Yardnique needed. I was up-to-speed in no time; it has helped Yardnique become more efficient and very rapidly. I estimate our return on investment has been only just weeks."
About Sage
Sage is the global market leader for technology that provides small and medium businesses with the visibility, flexibility, and efficiency to manage finances, operations, and people. With our partners, Sage is trusted by millions of customers worldwide to deliver the best cloud technology and support. Our years of experience mean that our colleagues and partners understand how to serve our customers and communities through the good, and more challenging times. We are here to help, with practical advice, solutions, expertise, and insight.
About Velixo
Velixo integrates Cloud ERPs with Microsoft Excel, giving real-time access to ERP data as well as tools that facilitate reporting, planning, data management and business process automation. Founded in 2017, Velixo has received multiple awards in the ERP space and has grown to become a global software company with thousands of customers across the world. It is managed by a team of tech and ERP professionals with a common mission to accelerate businesses' transformation through meaningful outcomes and efficiencies, using the latest technologies, Microsoft 365, and ERPs' unique capabilities.
Source: Velixo