Veeo Joins LG Display in Partnership to Create the First Behind-Display Camera for Next Generation Video Conferencing
Press Release
•
Jun 13, 2023
In an effort to recreate the eye-to-eye in-person experience in video conferencing or online meetings, Veeo has partnered with LG Display in adopting Transparent OLED (T-OLED) technology to create the world's first Behind-Display Camera (BDC) monitor.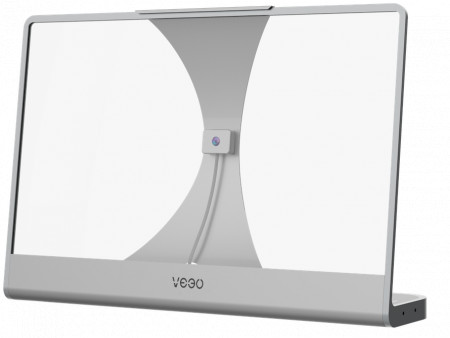 LAS VEGAS, June 13, 2023 (Newswire.com) - Veeo, based in Las Vegas, NV, is proud to announce its first T-OLED-based display, named Veeo T30 at INFOCOMM 2023. Veeo's BDC system, centrally placed behind a 30" or 50" LG T-OLED display panel, captures images of users sitting on the opposite side with a perspective as if the camera is placed in the front center of the screen. When captured this way, video images are more aligned with the user's line of sight when looking at the display content. This contrasts the effect when a camera is placed on the top edge of a display, creating the erroneous impression that the user is lowering their eyes to avoid eye contact with people on the other end.
With Veeo T35, users in video conferences appear to be looking at one another, eye-to-eye, with the BDC aligned with the user's eye level. This brings us one step closer to recreating the in-person meeting experience where users can look at each other in the eye.
"Veeo® is a game-changer in the world of remote collaboration," says Bayley Pierson, Veeo's Director of Product Marketing. "It solves the two biggest problems of virtual communication, delivering a genuine face-to-face connection while allowing for seamless collaboration on digital content. Veeo® is the future of video conferencing, and we're thrilled to be at the forefront of this revolution."
Veeo® is available for pre-order in Q4, 2023. For further information, please contact bayley.pierson@veeonow.com.
© Copyright 2023 Veeo, Inc. All rights reserved. Veeo is a registered trademark of Veeo Inc., 6780 Paradise Road, Las Vegas, NV 89119.
© Copyright 2023 LG Electronics USA, Inc. All rights reserved. LG and the "LG Life's Good" are registered trademarks of LG Corp.
Source: Veeo
Related Media