VectorZilla ICO Pre-Sale Goes Live
VectorZilla is the world's first stock graphics platform and marketplace based on blockchain
Press Release
-
updated: Jan 30, 2018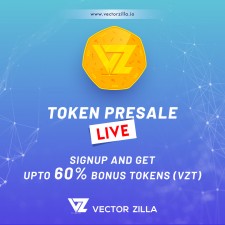 KANPUR, India, January 30, 2018 (Newswire.com) - VectorZilla is the world's first royalty-free stock graphics platform and marketplace based on blockchain and deep learning technologies. This is the first time that a stock graphics marketplace catering to a global audience has adopted a transparent and semi-decentralized platform with blockchain technology.
The public ICO Pre-Sale is live:
Minimum Contribution: 0.10 ETH (reduced from 0.25 ETH)
Pre-Sale Tier 1: Up-to 1500 ETH
1 ETH = 1000 VZT + 25% Bonus (1,250 VZT)
2 ETH = 2000 VZT + 50% Bonus (3,500 VZT)
10 ETH = 10,000 VZT + 60% Bonus (16,000 VZT) 
Pre-Sale Tier 2: 1501 ETH To 5000 ETH
1 ETH = 1000 VZT + 15% Bonus (1,150 VZT)
2 ETH = 2000 VZT + 40% Bonus (2,800 VZT)
10 ETH = 10,000 VZT + 50% Bonus (15,000 VZT)
VectorZilla.IO is a revolutionary new marketplace for stock graphics, featuring over 1 million self-owned graphic elements and over 120,000 compositions. Built on top of the Ethereum network, the platform will see a beta launch taking place in the second quarter of 2018. VectorZilla's enviable image library is currently worth $25 million and can be accessed at affordable rates using VZT at super-fast speed, or other digital currencies and fiat money that are converted to VZT during checkout. The VZT can also be freely traded on crypto exchanges.
The VZ Token sale comprises 100 million tokens, of which 75 million are earmarked for the ICO crowdsale. The pre-sale public offer comprises 5 million VZT with a target of 5,000 ETH, and comes with up to 25% bonus as an incentive for early investors and participants. Of the total, 23 million VZTs will be held in a reserve fund for management and acquiring future content and licensing, while 2 million tokens, to be kept in multiple signature wallets, will go towards the token-sale cost, an affiliate and bounty programs. Subscribers who participate in the pre-sale above 02 ETH will also receive a special 35% additional bonus. VZT can be bought with cryptocurrency (Bitcoin (BTC), Ethereum (ETH) Litecoin, Ripple, Wave etc.), or fiat currencies.
"VectorZilla is our most ambitious and cutting-edge platform that will transform the royalty-free stock graphics industry. As the world's first blockchain and AI-based marketplace, we welcome contributors and participants from all over the world to make VectorZilla the biggest and most trusted royalty-free graphics platform ever created. We have made a few changes in VectorZilla Token Presale terms to enable greater participation. One of the key reasons that prompted the change was the ongoing rise in the price of Ethereum, said Abdul Qaiyoom, co-founder and CEO, VectorZilla.
The global stock images market is on the ascendency and projected to grow at a CAGR of 7.37% with a revenue pie of over $4 billion by 2022. The royalty-free images sector in which VectorZilla operates is expected to deliver the fastest growth during this period due to flexible terms of use. VectorZilla is spearheading the royalty-free graphics marketplace with a transparent and secure platform that pays the maximum to contributors.
Several features make VectorZilla the most ambitious and revolutionary project in the global stock graphics marketplace. It is the first of its kind in the world to use both the blockchain and artificial intelligence (AI) technologies in the huge market for free graphics, a trusted and reliable online service popular all over the world. The blockchain is the future of such online platforms, giving it maximum security, transparency and data storage. It also allows VectorZilla to offer much-needed services such as white-label and integrated apps. Contributors from all over the world are thus likely to participate at VectorZilla, which aims to serve millions of businesses and individuals after its formal launch.
Built upon the most cutting-edge and futuristic tools, VectorZilla utilizes the Ethereum decentralized ledger with multiple security levels and transparent and open transactions between contributors, customers and partners. Each user will thus receive their fair share with easy transactions and instant payment. The AI-driven search engine offers contextual and highly relevant search results, thus creating efficiency and a wholesome user experience. All popular platforms (Adobe Illustrator, Sketch, WordPress, Shopify, Magento, etc.) will be able to utilize content from VectorZilla through plug-ins, apps and extensions. Also available are a highly usable API and multi-platform apps, and white label solution for select partners.
The team behind VectorZilla comprises over 40 industry professionals from diverse fields, including technology, management, creative, operations, sales and marketing. The operations are backed by Allies Interactive Services Pvt. Ltd, one of the world's largest vector stock graphics creation and distribution company, and a leading contributor to sites like shutterstock.com, depositphotos.com, storyblocks.com and other stock graphics marketplaces. Allies Interactive Services carries over 18 years of experience in software technology and microstock graphics industry. Team members carry decades of experience in UI/UX, creative graphic design, software development, IT consulting, business management and entrepreneurship, with some members working on blockchain technologies since its early days.
VectorZilla's vision is to be the preferred platform for all graphics requirements and advanced, cloud-based, online editing tools that deliver maximum productivity right inside a web browser. The worldwide audience includes creative freelancers, creative agencies, publishers (bloggers, etc.), publishing houses, content writers, and anyone who requires royalty free stock graphics.
The launch of VectorZilla is on track, with a beta version scheduled for the second quarter of 2018. The first blockchain-based, royalty-free graphics library will be launched in three phases. The first phase will open the platform's vast library along with integration apps and tools, while the second phase will introduce advanced editing features based on the cloud. The third phase will open VectorZilla to the worldwide community of contributors, offering 90% of sales proceeds.
All funds raised from the pre-sale and ICO will go towards growth and expansion of VectorZilla, which is equipped with sophisticated tools such as contextual search based on artificial intelligence, decentralized ledger, multiple levels of security, transparent and open transactions, and support for popular blogging, e-commerce and content management systems through API, extensions, plug-ins and multi-platform apps.
Participants in token sale and contributors desirous of joining VectorZilla can obtain detailed information, including a whitepaper, token structure and pricing, from https://vectorzilla.io. 
Media Contact: 
Abdul Qaiyoom
Email: abdul@vectorzilla.io
Source: VectorZilla Creatives LLP
Share:
---
Categories: Photography, Investments, Internet and e-Commerce, E-Commerce and e-Business, Graphic Rendering and Animation, Saas (Software as Service), Information Technology
Tags: AI, Bitcoin, Blockchain, Deep learning, ERC20, Ethereum, ICO, Stock Graphics Marketplace, Token Sale, VectorZilla Token
---