vCom Solutions vManager 15 Expands Access to Information & Improves User Experience
Press Release
•
Nov 15, 2022
New release enables greater visibility to improve purchasing, performance & accessibility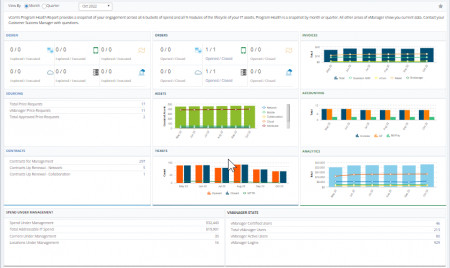 SAN RAMON, Calif., November 15, 2022 (Newswire.com) - vCom Solutions, a leader in delivering software and services for managing the lifecycle of IT spend from procure to pay, today announced the latest release of the company's award-winning vManager platform. Major enhancements within vManager 15 focus on the expansion of data sets to help drive more informed client purchasing decisions, an improved User Experience (UX) enabling powerful at-a-glance views of an organization's entire IT spend, and enhanced performance throughout the platform.
"In this 15th version of our award-winning platform, we are kicking things into high gear," said Sameer Hilal, vCom's Chief Operating Officer. "We are doubling down on our promise to provide actionable data, and incorporating feedback we have received from our customers to help them make better business decisions while saving them time with improved performance and UX."
Key capabilities and enhancement within vManager 15 include:
Marketplace Enhanced Shopping Experience - vCom was the first to offer customers a robust Marketplace within a management platform to compare and purchase IT commodities like Internet services, POTS, mobile phones, and more. Now, in addition to comparing providers based on pricing, bandwidth, and terms, customers shopping for Network services can see detailed information about the building where they need service, along with available providers and technologies already in the building, route maps, and near-net versus on-net connections. Importantly, they can also view service provider implementation intervals to help account for tight implementation timelines.
"Marketplaces are the choice medium to shop for and buy IT commodities. Price and term may not be the only deciding factors for an IT manager who is shopping for commodity IT services," says Hilal. "Similar to what we already do regarding the availability of mobile devices, we've enhanced our already-powerful Marketplace to provide customers with additional service dimensions about Network services, arming them with the intelligence they need to select the right solution for their business."
Improved UX of Program Health Report - UX improvements on this key vManager snapshot report lets users assess the depth and breadth of their organization's IT spend, their utilization of vCom's products and services, and how vCom is helping them benefit from the values of time, information, and cost savings in a way that is quick and easy. Visualizing details by lifecycle phase, the dashboard supports trend tracking at-a-glance, spotting opportunities for additional optimization, and driving deeper strategic conversations around next steps within the management of an organization's IT lifecycle.
Single Sign On (SSO) - Organizations can enhance their utilization of vManager in conjunction with other portals and SaaS applications by enabling Single Sign On (SSO). Once configured, enterprise users securely leverage a single set of credentials managed by their IT department and are authenticated into vManager just as they would gain access to other corporate apps, websites, and data established by IT, making it that much easier for them to quickly manage their IT environment.
Performance Enhancements - Several "under the hood" improvements have been made to help improve performance throughout the platform, enhance queries and data rendering, making it easier for customers to access their inventory or process their invoice in vManager.
Managed Pay Improvements - vManager 15 features additional enhancements to Managed Pay, vCom's fastest-growing managed service and most popular add-on to Invoice Management. The Managed Pay engine has been retooled to allow future scale capabilities, including providing customers the ability to better manage the frequency, timing, amounts, and accounts to include in fund requests through the platform. "With the adoption of a distributed workforce model, a single invoice payment system that centralizes and simplifies invoice management becomes a must-have for all businesses," says Hilal.
To support the launch of vManager 15 and provide clients with the expertise needed to maximize their use of vManager, vCom's Customer Success Team is holding a week-long vManager Certification course open to all users Dec. 5-8. More information and registration is available here. Additional materials on vManager 15 can be found on the vCom website.
Source: vCom Solutions