Vasayo Announces Partnership With Hearts and Hands for Humanity 501(c)(3)
Shared vision is to establish 1,000 clean water wells within African communities to bless the lives of 1 million people
Press Release
-
updated: May 31, 2017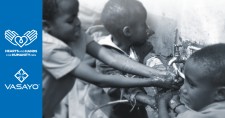 LEHI, UTAH, May 31, 2017 (Newswire.com) - Vasayo (vasayo.com) today announced its partnership with Hearts and Hands for Humanity, a 501(c)(3) charitable organization providing clean water to communities in Africa using an innovative new tool: the Center Earth Drill.
"Our mutual goal is to establish 1,000 wells providing clean water to 1 million people," said Dallin A. Larsen, Vasayo Founder. "Once we achieve this milestone, we will set another and continue providing this precious, life-giving resource to those who struggle each day without it."
A safe water supply and adequate sanitation to protect health are among the basic human rights.
According to the World Health Organization, 3.4 million people, mostly children, die annually from water-related diseases. Most of these illnesses and deaths can be prevented through simple, inexpensive measures.
"We're not simply thinking about or planning to provide clean water; we already have a proven system that is ready to scale," said Verlyn Harris, Cofounder of Hearts and Hands for Humanity. "In the past four years, we've been able to establish 200 water wells that provide clean water to 200,000 people. With Vasayo as our partner, we hope to rapidly accelerate our progress and make a significant positive impact on this epidemic."
100 percent of donations from Vasayo go toward providing clean water.
"We believe our lives will be defined by how we made them meaningful, and I have every confidence that our partnership with Hearts and Hands for Humanity is meaningful, to say the least, and will bless many lives for generations to come," said Larsen.
About Vasayo
Founded January 2017, Lehi, Utah–based Vasayo formulates and distributes nutrition and wellness products featuring Advanced (liposome) Delivery Technology through its independent Brand Partners. The company's brand centers on its motto of Delivering Solutions, and strives to innovate in each of its 5 Pillars—leadership, product/science, timing, rewards, and philanthropy. Visit vasayo.com for more information.
Media Contact: 
Brian Gill
Email: briang@vasayo.com
Source: Vasayo
Share:
---
Categories: Non Profit, Home-based Business, Corporate Social Responsibility
Tags: 5 Pillars, Dallin Larsen, Delivering Solutions, Direct Sales, Direct Selling, Hearts and Hands for Humanity, MLM, Philanthropy, Vasayo, Worthwhile Cause, Worthy Cause
---