Vanessa Antonelli, One of the Nation's Top Nursery and Playroom Designers Shares Her Top Baby Safety Tips on Tips on TV Blog
Press Release
•
updated: Oct 1, 2017
Modern Baby Designer/Expert to the Stars Vanessa Antonelli Gives Must-Have Items to Keep Your Baby Safe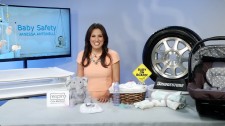 ATLANTA, October 1, 2017 (Newswire.com) - Vanessa Antonelli has designed playrooms and nurseries for some of the top celebrities in the world. Her expertise and inspiration were in such demand that she opened a store in New York to provide the very best for the 'modern baby.' This superstar of baby wisdom is shared some of her tips for keeping the little ones safe as part of National Baby Safety Month.
SUGGESTIONS FOR KEEPING BABY SAFE IN THE CAR
Safety is so important when driving those little ones. Most research by parents is done to find the best car seats, but the tires on the car are often overlooked. When driving, a child's safety is in the palm of the parent's hands. A tire's contact patch is only about the width of a hand. That is why picking a good set of tires is critical to being safe on the road. DriveGuard tires from Bridgestone give parents peace of mind. The tires are designed to drive up to 50 miles to safety, after a puncture. They perform when parents need them the most, so being stuck on the side of the road, especially when traveling with an infant or small child, will be a worry of the past. For more information, visit www.bridgestone.com.
CHOOSING THE RIGHT BEDDING FOR BABIES
Bedding is an essential aspect in setting up a nursery because it provides comfort and safety for the child. Respiro Crib Mattress by BabyTrend is a great option because it guarantees 100 percent ventilation. It has open-air sides and high-tech breathable mesh that help regulate the baby's body temperature to prevent overheating, and it is hypoallergenic. It also has a firm side for newborns and a softer side for toddlers, both of which can be removed and machine-washed. A splash mat is also included for use between the mattress and crib support and, it folds for easy storage and travel! It will be available early October at Babies "R" Us. For more information, visit www.babytrend.com.
Contact: tipsontv@gmail.com
Source: Tips on TV
Related Media
Tags