Vancouver Startup Turns Times Square Into Amazon Jungle
New York City's Times Square interactive experience is made possible by Vancouver-based tech company Motive.io.
Press Release
-
Apr 1, 2016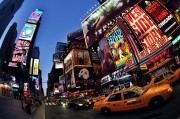 Vancouver, BC, April 1, 2016 (Newswire.com) - ​​​​​​​​For the month of April, an interactive sound installation superimposes the Amazon ecosystem upon 8 square blocks of Times Square, to be experienced by the over half a million daily visitors, to highlight the impact of climate change during Earth Month. The technology that makes it possible is Vancouver's Motive.io. 
As part of Times Square Arts: At the Crossroads program – which includes installations and performances on the public plazas of Times Square – visitors receive specialized headphones connected to a mobile app. From there they embark on a self-guided journey with each street representing a different time of day or night in the Amazon. The installation is lead by artist Stephan Crasneanscki of Soundwalk Collective and is titled JUNGLE-IZED: A Conversation with Nature. (#JUNGLEIZED)
Tim Tompkins, President of the Times Square Alliance says, "JUNGLE-IZED embraces our identity as an urban jungle and draws in the sounds of the natural jungle to allow New Yorkers and visitors to experience a new hybrid jungle, one that can only be discovered in Times Square."
Fred Adam, project Art Director says, "It's a groundbreaking technical and artistic achievement. We now have a new way to feel the sounds of the Earth. For me and my work, Motive.io is a game changer."
Ryan Chapman, CEO & Co-founder of Motive.io says, "This is exactly what we hoped for when starting this company. Their team was spread out across Spain, New York, and Berlin, and they used our software to connect and create their vision. I'm thrilled."
ABOUT MOTIVE.IO
Motive.io is a programming tool for creative professionals to program content-driven experiences and games. It is designed for collaboration, allowing teams to work together remotely. Motive.io powers AR, VR, Unity3D, HTML5 and more. It was founded in Vancouver, BC, by Ryan Chapman, Jeff Macpherson, and Peter Wittig. motive.io
ABOUT FRED ADAM AND GPS MUSEUM LAB 
Created by Fred Adam, a French artist and researcher based in Spain, the Lab explores locative storytelling through location-based games, walking documentary, walking cinema, sound art, Earth science and cosmology. The GPS Museum is an emerging collaboration between artists and scientists in the search of transformative outdoor experiences using mobile technology. gpsmuseum.eu
ABOUT FRANCISCO LÓPEZ 
Francisco López is internationally recognized as one of the major figures of the sound art and experimental music scene. He has realized hundreds of concerts, projects with field recordings, workshops and sound installations in over seventy countries.​ franciscolopez.net
ABOUT SOUNDWALK COLLECTIVE 
Soundwalk Collective is an international art group based in New York City and Berlin, and includes founder Stephan Crasneanscki (Russia - France), Simone Merli (Italy) and Kamran Sadeghi (Iran - USA). The Collective combines nature, anthropology, ethnography, non-linear narratives, psycho-geography and the exploration of recording and listening to sound.
soundwalkcollective.com
Times Square Arts, the public art program of the Times Square Alliance, invites leading contemporary creators to help the public see Times Square in new ways. Generous support of Times Square Arts is provided by the New York State Council on the Arts, the New York City Department of Cultural Affairs, and the National Endowment for the Arts. timessquarenyc.org/times-square-arts Twitter and Instagram: @TSqArts
CONTACT INFORMATION
Motive.io
Ryan Chapman
CEO & Co-founder
604-764-6295
ryan@motive.io
website: www.motive.io
twitter: @motive_io
Share:
---
Categories: A&E News, Computers and Software, Environmentalism
Tags: Alternate Reality, AR, Augmented Reality, Climate Change, Earth Day, Earth Month, Motive.io, New York, SaaS, startup, Times Square, Vancouver
---