Valuation and M&A Expert Justin Kuczmarski Discusses How Operating Margin Will Drive Amazon's Proposed Acquisition of Whole Foods
Unheralded Drivers of Success Include How Margins Will Respond to the Acquisition's Synergies
Press Release
-
updated: Jun 22, 2017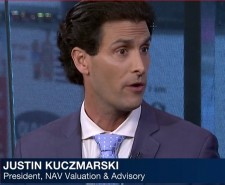 New York, NY, June 22, 2017 (Newswire.com) - Justin Kuczmarski, MBA, CPA, CVA, ABV, President of NAV Valuation & Advisory LLC ("NAV"), recently appeared on Clear Cut, the nightly news program on global channel i24, to discuss Amazon's proposed acquisition of Whole Foods. Mr. Kuczmarski appeared on the Friday, June 16 broadcast.
In discussions with Anchor Michelle Makori, Kuczmarski noted that diversified synergies, the enviable brand of Whole Foods, and operating margin growth were all prime drivers for the acquisition of the organic food pioneer.
In response to a question on what should propel the Amazon stock going forward, Kuczmarski emphasized the trend in Amazon's operating profit margin. He highlighted how growth in operating profit margin from 1.0 percent in 2013 to the current 3.0 percent threshold had fueled the surge in the stock price over the last five years.
Kuczmarski also noted that it was unusual for Amazon to be making an all-cash bid given that Amazon is trading near an all-time high. Amazon's bid represents nearly two-thirds of the company's $21 billion in cash and short-term investments, a structure he dubbed a "large bet" irrespective of the success and size of Amazon. Even with possible debt financing down the road, the transaction nevertheless represents a large percentage of current cash liquidity.
For more information or media inquiries, please contact NAV below. The full interview link can be found at https://www.i24news.tv/en/tv/replay/clearcut/x5qve0a. 
About NAV Valuation & Advisory LLC
NAV Valuation & Advisory LLC is a multidisciplinary professional services firm specializing in investment valuation and corporate advisory. Building upon the record and expertise of President Justin Kuczmarski within investment valuation, forensic services, and M&A investment banking, our team strives to deliver leading services in a timely and client-focused fashion. We leverage our diverse backgrounds to analyze engagements from various vantage points.   
Before founding NAV, Mr. Kuczmarski served as an NYC Practice Leader in Financial Advisory Services for a top 10 accounting and advisory firm. He also has senior M&A investment banking experience as a Valuation Practice Leader for a leading M&A boutique bank. Mr. Kuczmarski is a 40 Under 40 recipient from the National Association of Certified Valuation Analysts (NACVA).
A graduate of Princeton University and Fordham University's Gabelli School of Business, Mr. Kuczmarski holds five certifications across public accounting, bankruptcy, corporate finance, and investment valuation.  
Contact Info:
NAV Valuation & Advisory LLC
30 Broad Street – 35th Floor​
​New York, NY 10004​
​Main Line: (212) 418-1234​
​Email: Media@NAV.Fund​
​Website: http://www.NAVValuation.com     
###
Source: NAV Valuation & Advisory LLC
Share:
---
Categories: Retail, Retail Technology, Banking, Finance, Insurance
Tags: alternative investment, Amazon, Amazon deals, Amazon Whole Foods, valuation, Whole Foods
---