Valentine's Day 'ALL ABOUT LOVE EVENT' - Learn, Play, Mingle and Feel Good
Love is eternal and omnipresent - always caring and hopeful. Love never gives up, never loses faith, and endures through every circumstance. Come on down and discover new and magical ways of looking at love that can positively change your life and the world around you.
Press Release
-
updated: Feb 14, 2020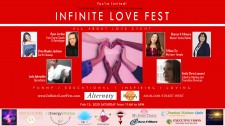 TORONTO, February 14, 2020 (Newswire.com) - Infinite Love Festival is celebrating its first annual event at the Alternity Elixir Bar & Lounge in Toronto on Saturday, Feb. 15, from 11 a.m. to 6 p.m. Dedicated to promoting peace and love in the world, the founders were inspired to making this Valentine's Weekend a special time to recognize love other than just romantic.
While it is customary to celebrate Valentine's Day appreciating sweethearts, lovers and life companions, it is also important to acknowledge many other kinds of love: Self-Love, Love for Others, Love for Animals and Mother Nature, and Love for All Creations like Food, Water, the World, and the Universe.
At the event and in addition to a lot of fun and good vibes, a panel of six expert speakers will present on these feel-good topics:
How to love unconditionally including loving others and all things
How to use masterful ninja skills of win-win communication to ensure lasting love
Learn all about romantic and passionate love for spirit and body
Learn about True Love, Soul Mates and Twin Flames
Experience a new love for Nature
And take charge of creating feelings of happiness and love
Self-love not only changes how people see themselves, but it also changes how people see the world. Inspired by the wisdom on World Peace by Mother Teresa, The Dalai Lama, Mahatma Gandhi and others, the event's theme highlights that "peace between all people begins with peace within each person." (Kamil C.K.)
For more information, tickets and to help spread the word, visit the following:
Home Page: http://www.infinitelovefest.com/
Facebook Event: https://www.facebook.com/events/628236721300710/
Event Tickets: https://www.eventbrite.ca/e/infinite-love-tickets-93737797275
Source: Infinite Love Festival
Share:
---
Categories: Entertainment
Tags: Conscious Party, Current Event, Gaia, Infinite Love Fest, Local Event, Mother Earth, Mother Nature, Romantic Love, Self Love, Valentine's Day, World Peace
---