VA Boston Healthcare Implements Palarum SmartSock Technology to Prevent Patient Falls
Press Release
•
Aug 15, 2023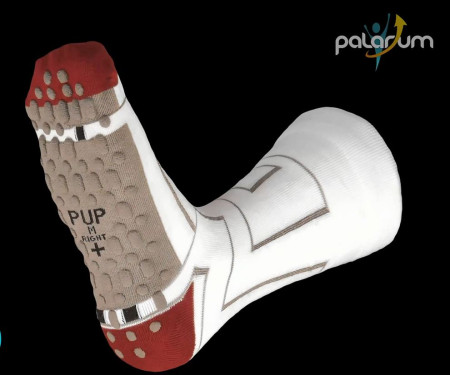 BOSTON, August 15, 2023 (Newswire.com) - The VA Boston Healthcare System has implemented the Palarum® PUP® SmartSock technology to help prevent patient falls and reduce their related costs.
The PUP® (Patient is UP!) Smart Sock solution incorporates a revolutionary, patented wearable technology that helps prevent patient falls and enhance rehabilitation therapy. Featuring advanced eTextile and IoT technologies, PUP® socks issue real-time alarms to notify nearby nurses that a fall-risk patient is out of bed and unassisted.
"We are thrilled to team up with the VA Boston," said Patrick Baker, Palarum CEO and Founder of Palarum LLC. "VA facilities continue to utilize our PUP® SmartSock at various sites and after rigorous testing, they are confident in our technology's ability to reduce patient falls and their related costs."
Patient falls in the U.S. are a devastating health care problem. Every year nearly one million patients in U.S. hospitals fall while hospitalized. Data from the Centers for Medicare & Medicaid Services (CMS) indicate that the average U.S. hospital experiences five falls per 1,000 patient days. Each patient fall is estimated to cost the healthcare facility over $10,200 dollars per incident.
About Palarum
The Palarum PUP® Smart Sock is the most technologically advanced, nurse-centric, patient mobility system in healthcare. Founded in 2014 by a former Chief Nursing Officer of a large community hospital, Palarum designed the smart sock for use with patients in acute care hospitals, as well as facilities for rehabilitation, long-term care, and physical therapy. The PUP smart sock incorporates patented technologies woven into a conductive fabric, enabling real-time wireless monitoring that helps to avoid patient falls. PUP technology also improves patient safety by greatly reducing injuries from falls, while significantly lowering the related costs. A smart notification system decreases alarm fatigue among nursing teams and generates critical new data to enhance unit and facility operations. PUP technology is also applied to enhance patient care in physical therapy and rehabilitation facilities. www.palarum.com.
About VA Boston Healthcare System
VA Boston HCS consists of main campuses in Brockton, Jamaica Plain and West Roxbury, with VA outpatient clinics in Boston, Framingham, Lowell, Plymouth and Quincy. Together, VA Boston facilities provide exceptional and accessible care for more than 60,000 Veterans from the greater Boston area and across New England. VA Boston also hosts one of the largest and most active research programs in the Veterans Health Administration and 10 national centers of excellence, including the Million Veteran Program, the VA Biorepository Brain Bank, and two divisions of the National Center for PTSD: the Behavioral Science Division and Women's Health Sciences Division. More at www.boston.va.gov
Contact:
Palarum: Chris Baker, 617.513.7003
Source: Palarum