Uvolv Sports & Performing Arts Software to Help Youth
Press Release
•
updated: Aug 3, 2017
Dedicated to Helping Promote Athletes and Performing Arts Students, Coaches and Directors - Network, Create Profiles and More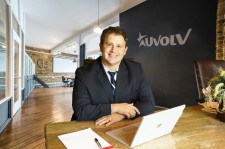 Omaha, Nebraska, July 28, 2017 (Newswire.com) - ​​Uvolv, a new website and software application focused on helping youth reach their potential and save life long memories for generations, is launching January 2018. After several months of consideration and discussion with coaches and performing arts directors at all levels, CEO and Founder, Frank Emsick, has begun developing the platform. Frank believes in community involvement and is developing the application to help youth and youth leaders to promote themselves and their programs. He views this new social application as an opportunity to give-back to those who have dedicated their careers to helping youth. His team has even thought of how to engage retired coaches and directors so that they too can continue to share their knowledge and experience. "Building this innovative application will provide parents of all socioeconomic backgrounds assurance that they are able to promote their child to their potential in the least expensive way possible. Simply put, it should not cost parents thousands of dollars just to get their child noticed. It will also help coaches, both current and retired, to share their experience - their gifts."
Helping Youth Take Charge of their Future & Make Saving Memories Fun
"Building this innovative application will provide parents of all socioeconomic backgrounds assurance that they are able to promote their child to their potential in the least expensive way possible. Simply put, it should not cost parents thousands of dollars just to get their kid noticed. It will also help coaches, both current and retired, to share their experience; their gifts."

Frank Emsick, Founder & CEO
Students of all ages, high school and college coaches at all levels and parents will benefit, not just blue-chip prospects. While other websites singularly focus on promoting the nation's top athletes, Uvolv will focus on all athletes and performing arts experience levels. In many cases, Divisions II, III, and NAIA colleges are overlooked by youth because of the perceived prominence the larger Division I schools receive. Even so much so that often high school seniors opt out of pursuing their dreams of playing sports or performing in college because they were not recruited/noticed. The website will enable them to share their talents with family, friends, competitors, and coaches, but most importantly, Uvolv will maintain a life long history of their many activities/profiles from their time as a youth, college, professional career and retirement.
Colleges have Trouble Finding High School Recruits
Websites like Rivals and Hudl have dominated the scene for high school sports and do a good job at helping top level recruits across the country. What about those students that just weren't Division I caliber? There are so many scholarships that go unused because students and colleges can't find each other. Uvolv solves these issues by enabling both the students and the colleges to promote themselves and find each other in a collaborative and social platform.
A Place for Former Athletes and Coaches Too - Online Coaching
Whether you performed in the band, played a sport or were a prominent coach at any level, including those who are now retired, you have the experience to share with youth. The Uvolv technology will help former players/performers/coaches/directors become mentors with a simple and easy to use interface. You will have the opportunity to give online high-fives to your own loved ones and even to those you don't know. If you want to give advice on how to shoot the ball, defend the goal or even sing a solo you do that too. Uvolv will have an exciting video content interface as well which will be announced later.
About Uvolv
Frank Emsick is a native of Nebraska where Uvolv is headquartered. Emsick comes from a family of athletes and performers, is a father of four and has been married to his lovely wife Jodi for 24 years. Frank is a proud alumnus of the University of Nebraska where he graduated with a degree in Mechanical Engineering.
Frank has worked for large international companies for over 20 years and transitioned into software development in 2014. He loves solving complex problems for corporations and implementing solutions. A successful business CEO and Chairman, Frank has a world class technology team dedicated to helping organizations and the community. Frank is action oriented and a visionary with a passion for helping others.
Would You Like to be Involved in the Development of Uvolv?
If you would like to participate in the final design of the software application or simply make suggestions on features you would like to see in the application please email ideas@uvolv.com. Innovating is fun and Uvolv has already integrated many features that you will come to know and love, but we do not want to miss out on challenges you have as a coach, director or student. We want to know your challenges and incorporate solutions into the application.
Visit www.uvolv.com in the coming months for updates on launch dates.
Source: Uvolv Corporation