Using the Momentum of the Big Game to Make an Impact on the Opioid Epidemic
With the eyes of the world on Minneapolis this NFL championship weekend, volunteers from the Foundation for a Drug-Free World are determined to reverse the trend that has caused so many drug overdose deaths in the city.
Press Release
-
updated: Feb 4, 2018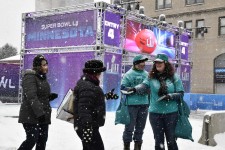 MINNEAPOLIS, February 4, 2018 (Newswire.com) - A preliminary count of 2017 casualties in Minnesota's Hennepin County shows 162 of the deaths were opioid-related. And among those who died in 2016 was Prince, one of Minneapolis' most famous native sons.
Volunteers from the Foundation for a Drug-Free World braved the snow today to reach out to Minnesotans and people from across the country and around the world, in Twin Cities for the famous weekend, with the truth about drugs.
"Drug education works," says Jessica Hochman, executive director of the Foundation for a Drug-Free World International. "And with our materials, it is easy to get through to kids and help them decide to live drug-free — far easier than picking up the pieces after they've become addicted to opioids or any of the other dangerous substances kids are introduced to at younger and younger ages today."
In the Foundation for a Drug-Free World documentary The Truth About Drugs: Real People, Real Stories, a former addict says, "No little kid grows up thinking, 'Wow, one day I'm going to grow up and be a heroin addict.' They want to be a superhero or firefighter or something like that. But if you start using, all those things go further away." 
The Minnesota chapter of the Foundation for a Drug-Free World, sponsored by the Church of Scientology of Twin Cities in St. Paul, organized volunteers and helped keep them warm in the 10-degree weather. They are dedicated to carrying this campaign forward in the region to end this deadly epidemic. The church will also train anyone wishing to become drug-education specialists and provide all the materials they need free of charge to carry out drug prevention campaigns.
The Church of Scientology and its members support the Foundation for a Drug-Free World, a secular nonprofit corporation that empowers youth and adults with factual information about drugs so they can make informed decisions to live drug-free. The Foundation's Truth About Drugs campaign is one of the world's largest nongovernmental drug education and prevention initiatives. 
According to the United Nations Office on Drug Abuse and Illicit Trafficking, "Every dollar spent on prevention can save governments up to ten dollars in later costs."
Source: ScientologyNews.org
---
Categories: Non Profit, Religion, Substance Abuse, Addiction
Tags: Church of Scientology Twin Cities, Foundation for a Drug-Free World, NFL Championship, opioid epidemic, overdose deaths, Prince
---