Using Entry Vestibules to Boost School Security
Press Release
•
updated: Oct 10, 2019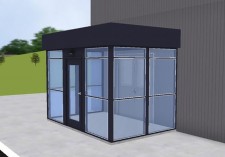 ATLANTA, October 10, 2019 (Newswire.com) - School systems all across the country are always looking for new ways to increase the safety and security of their students and staff. One particular method that is gaining popularity is adding a security vestibule, or mantrap, to the entrances of the school buildings. Prefabricated entry vestibules are often utilized as a way for a facility to save on energy costs, especially during harsh weather seasons. They keep the facility closed off at all times by creating an enclosed buffer-zone between the outside environment and the inside of the facility, helping the facility maintain a more constant temperature by keeping outside air out and inside air in. This way facilities can save a lot of money in the long run by not having their HVAC systems running constantly. This can be especially helpful in facilities with a lot of foot traffic in and out, leading to the entrances doors being open and closed often.
However, having this barrier at the front of your school system can create a benefit for the school's security as well. The additional room that the entry vestibule creates at the front of the school creates what is known as a mantrap. The rooms are referred to as such because they quite literally can be used to trap a man (or woman) from entering into your facility. The vestibule does this by keeping the all door sets in the room locked whenever a person is inside.
How Would Students Gain Entry?
Typically, these systems operate in a couple of ways. First, they can have what is essentially a two-step verification for the entry of the facility. In this case, the building would use two different forms of Identification (so an ID card and PIN code for example) for each of the doors. This a very high level of security and is typically utilized in places like a government facility.
So How Do These Entry Vestibules Protect Schools?
For most schools, a simple, single-step verification with one or two sets of locked doors would likely be fine. In this case, the first set of doors could either be unlocked or locked. If unlocked, the first door would immediately lock once a person entered. From there, the person could exit the vestibule using a form of Identification. If the outer door is locked, it would have the ID verification and once the person entered, the inner door would remain locked until the outer door was closed. A form of vestibule monitoring (either manual or technological) should be employed in these vestibules to ensure no more than one person enters at a time.
Source: Panel Built Inc
Tags
Related Files
Additional Links