User Onboarding Pioneer Appcues Unveils Its Latest Product Innovation: Journeys
Press Release
•
Jun 1, 2023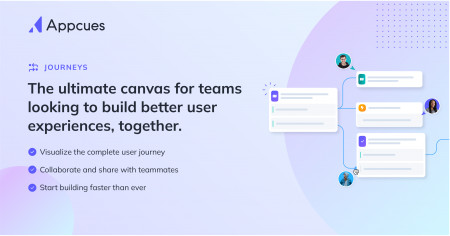 BOSTON, June 1, 2023 (Newswire.com) - Appcues, the leading user onboarding and adoption platform for web and mobile apps, unveiled Journeys, their latest product innovation, during a live broadcast last week. Journeys' visual design canvas empowers teams to view, connect, and optimize in-app experiences and more—together.
"Product-led growth is a team sport," said Eric Keating, VP Marketing at Appcues. "According to our 2023 Product-Led Experience Survey, strong cross-functional collaboration is the key to effective user engagement. Unfortunately, it's also most organizations' biggest challenge as they struggle to break down data, tooling, and communication silos. Journeys takes a massive step toward solving that challenge."
Journeys, now part of Appcues' core offering, effortlessly connects and visualizes your in-app experiences in one place, making it easy for teams to map and plan their user journeys end-to-end (inside the app and out), identify opportunities and gaps, and increase internal visibility and alignment.
"Journeys will be a game-changer for me. It's already proven to be a valuable asset in my work, giving me a more complete view of the experiences I'm building for my users," said Jason Lopez, Associate Director of Customer Operations at Instapage. "And it's made building those complex experiences a lot simpler too. I'm genuinely enthusiastic about the potential of this feature and how it's going to redefine user experiences for the better."
Leading the Journeys feature is Appcues' product manager, Lyla Rozelle, a seasoned expert with a decade's worth of experience in building user-facing experiences. "Your user experience spans multiple channels and tools, but product behavior should be at the center of all of that. Until now, that was difficult to do," said Lyla. "Journeys is the first tool designed to build product-centric experiences that also connect externally."
In addition to visualizing experiences, Appcues users will soon have the power to connect in-app touchpoints with other touchpoints outside of their application. Automation of workflows will elevate the journey to new heights, delivering a truly comprehensive experience.
Journeys is still in Beta and is available to all existing and new Appcues customers. Explore the possibilities at appcues.com/journeys.
About Appcues
Appcues is a user onboarding and adoption platform that was designed from the ground up to enable anybody, technical or not, to create beautiful, personalized in-app experiences that help their users fall in love with their product.
Thousands of software businesses around the world use Appcues to improve how users engage with their products—from onboarding new users and driving product adoption, to creating awareness for new features and collecting customer insights—no developer needed!
Appcues is backed by Sierra Ventures, NewSpring Capital, and Accomplice. To learn more and start your free trial, visit www.appcues.com.
Press: for more information, contact Eric Keating at eric@appcues.com.
Source: Appcues