U.S. Polo Assn. Serves as Official Apparel Partner for 2023 Cowdray Gold Cup
Press Release
•
Jul 25, 2023
Historic Cowdray Park Polo Club Hosts Both Ladies and Gold Cup Championships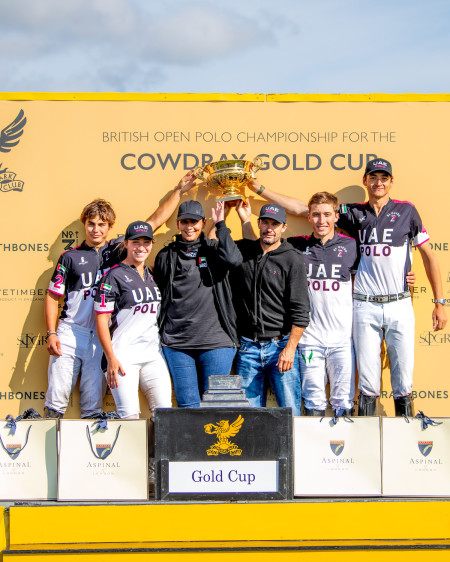 WEST PALM BEACH, Fla., July 25, 2023 (Newswire.com) - U.S. Polo Assn. once again served as the Official Apparel Partner of the 2023 Cowdray Gold Cup for the third consecutive year. This world-renowned polo tournament was hosted at the iconic Cowdray Park Polo Club from June 27 to July 23, where high-goal players included some of the top names in the sport of polo, such as Adolfo and Poroto Cambiaso, Facundo Pieres, and Hilario Ulloa, to name a few.
U.S. Polo Assn. also served as the Official Apparel Partner for the British Ladies Championship, which took place from July 10 to July 22 at Cowdray Park Polo Club. The classic, sport-inspired brand provided apparel for all on-site staff of both events and promoted both tournaments globally. In collaboration with Brand Machine Group (BMG), U.S. Polo Assn.'s brand partner in the U.K., the event hosted social media contests, divot stomp prizes, cap giveaways, and also offered exclusive products sold on-site in a merchandise tent.
The riveting Cowdray Gold Cup was an unforgettable sold-out competition in front of over 10,000 energized fans, filled with action-packed chukkers that unfolded under the English afternoon sun. Fifteen teams competed for the illustrious title, but ultimately, UAE Polo Team prevailed in the closing minutes of the Final against Dubai Polo Team with a score of 12-11. U.S. Polo Assn. also presented Barto Castagnola from the UAE Polo Team as the MVP of the tournament. Fans enjoyed watching the top tournament in the United Kingdom, with plenty of on-site musical entertainment, a luxury retail village, artisan food outlets, and well-stocked bars.
"U.S. Polo Assn. is proud to once again support the historic Cowdray Gold Cup as the Official Apparel Sponsor in one of the great venues of British polo," said J. Michael Prince, President and CEO of USPA Global Licensing, which manages the multi-billion-dollar U.S. Polo Assn. brand. "As our global footprint expands, we are honored to continue this partnership and highlight the sport of polo in the United Kingdom, which is one of U.S. Polo Assn.'s fastest-growing markets."
Event attendees caught the action as VIPs or spectators and enjoyed watching one of the highest levels of competition in the sport of polo while experiencing the English charm of Cowdray Park. The Cowdray Gold Cup is regarded as one of the top pinnacle tournaments of polo, alongside the U.S. Open Polo Championship® and the Argentine Open Polo Championship.
"The Cowdray Gold Cup is the perfect opportunity to connect consumers with historic English polo and the authentic sport-inspired U.S. Polo Assn. brand," said Boo Jalil, CEO of Brand Machine Group, the U.K. partner for the global, multi-billion-dollar U.S. Polo Assn. brand. "Both polo aficionados and those who are new to the sport can appreciate the beauty of Cowdray Park Polo Club and feel the importance of this historical event."
Inaugurated in 1956 and played on the illustrious Cowdray Estate boasting 16,500 acres, the Cowdray Gold Cup remains one of the most prestigious high-goal awards in the United Kingdom and globally today. Cowdray Park is recognized as the Home of English Polo, with its first competitive polo tournament dating back to 1910. Located in the heart of England, Cowdray Park prides itself on its strong heritage of sporting excellence where top polo players from around the world compete and are part of its history and tradition.
About U.S. Polo Assn. and USPA Global Licensing Inc. (USPAGL)
U.S. Polo Assn. is the official brand of the United States Polo Association (USPA), the non-profit governing body for the sport of polo in the United States and one of the oldest sports governing bodies, having been founded in 1890. With a multi-billion-dollar global footprint and worldwide distribution through over 1,100 U.S. Polo Assn. retail stores and thousands of department stores, sporting goods channels, independent retailers, and e-commerce, U.S. Polo Assn. offers apparel for men, women, and children, as well as accessories and footwear in more than 190 countries worldwide. U.S. Polo Assn. was named as one of the top five sports licensors in 2022 alongside the NFL, MLB, and NBA, according to License Global. Visit uspoloassnglobal.com and follow @uspoloassn.
USPA Global Licensing Inc. (USPAGL) is the for-profit subsidiary of the USPA and manages the global, multi-billion-dollar U.S. Polo Assn. brand, providing the sport with a long-term source of revenue. Through its subsidiary, Global Polo Entertainment (GPE), USPAGL also manages Global Polo TV, which provides polo, sport, and lifestyle content. A historic, multi-year, global arrangement between USPAGL and ESPN now showcases many of the top championship polo games in the U.S., enabling millions of sports fans and consumers to enjoy the sport across ESPN's broadcast and streaming platforms. For more sport content, visit globalpolo.com.
About Brand Machine Group-United Kingdom
The Brand Machine Group (BMG) is an international fashion brand owner and licensing specialist, housing a diverse and industry-leading portfolio of fashion, sports, and outdoor brands across adults and childrenswear clothing and accessories, including U.S. Polo Assn. With more than 40 years of experience, Brand Machine Group specializes in global licensing, and partners with recognized market leaders to manage a seamless and collaborative process of designing, manufacturing, and delivering quality products whilst championing the DNA of its brands. Visit Brand Machine Group.
Source: USPA Global Licensing Inc.