US Pet Care Brand Releases New Probiotic Dog Chews
Press Release
•
Feb 27, 2023
As dog parents themselves, the Bark&Spark team understands the needs of dogs, so the company's products are created to meet the specific needs and health concerns of pets.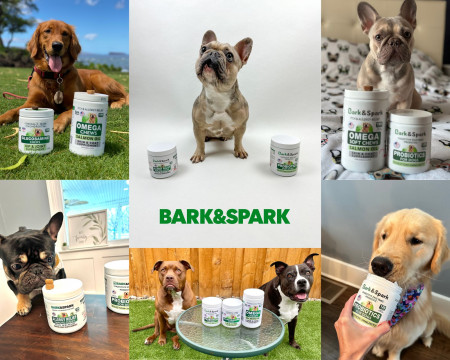 SHERIDAN, Wyo., February 27, 2023 (Newswire.com) - The US-based pet care brand Bark&Spark is strengthening its current offerings by debuting its latest product, Probiotic Chews for Dogs. Designed to support dogs' digestive systems, these recently added chewable supplements provide allergy relief and boost immune health, delivering a hit of potent enzymes in a tasty, chewable dose.
Bark&Spark has developed a product that could improve the lives of dog owners everywhere.
Dogs often struggle with gut issues such as gas, diarrhea, sensitive stomachs, loose stool, bad breath, and more. Such ailments can cause them severe discomfort and lead to unpleasant messes in the house. Packed with prebiotic and probiotic ingredients selected by trained vets, these dog chews could offer some valuable relief to dogs while helping them maintain general digestive health.
Beyond simple digestion, gut health has a deep connection to overall health in pets and humans alike, meaning these chewable snacks could also offer immune support for dogs. Health in the digestive tract is also known for keeping allergies at bay, which means the potential for noticeable improvements to a dog's skin and coat when using these supplements.
Bark&Spark's chews are touted as perfectly dosed and compatible with any dog's diet, with just a few chews a day giving the desired effects. Whether a dog is big or small, a puppy or a senior, the supplements are designed to be suitable for all manner of canine companions.
The company has attempted to differentiate itself from generic competitors by using only sustainably sourced, human-grade ingredients in these digestible dog chews. The fiber in the product is derived mainly from pumpkin and a variety of other natural sources, with the goal being to deliver the best digestive enzymes to dogs in a way they can easily absorb.
These chews have been enhanced with a natural bacon flavor, making it easy for dogs to enjoy, unlike other pills and powders on the market. Each bottle contains 120 chews, and one purchase could provide up to a 2-month supply, depending on the dog's size.
About Bark & Spark
Bark&Spark have been selling its pet products for some time, with their range already including products for anxiety in dogs, allergy relief, hip & joint support, and skin & coat enhancers, among many more. With an emphasis on true pet wellness and natural ingredients, these new Probiotic Dog Chews are a fitting addition to their extensive selection of supplements.
Source: Bark&Spark