Urban Pulse Launches New Harvest Moon Collection of Skin Care and Aromatherapy
Danielle Hawks, Owner and Designer at Urban Pulse, Launches Fall Product Line, the Newest Collection of All-Natural Skin Care for Women
Press Release
-
updated: Aug 20, 2018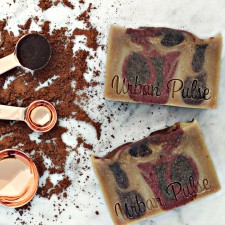 BALTIMORE, August 20, 2018 (Newswire.com) - Urban Pulse, a handmade business out of Baltimore, Maryland, is launching its Harvest Moon Collection of plant-based, natural and organic skin care for women this August 2018. The Fall product line caters to problematic and sensitive skin using high-quality ingredients such as essential oils, clay, natural oils and butters. Owner Danielle Hawks knows the struggle of dealing with problematic skin firsthand.
"I struggled with sensitive skin and acne for years," said Hawks. "Due to understanding the stress of easily irritated skin, I decided to only use the highest-quality, natural ingredients in every product Urban Pulse creates."
The Innovative Product Line
The Harvest Moon Collection includes a variety of skin care products, such as pumpkin and carrot seed face oil, tea tree natural deodorant and a honey turmeric face mask. Each product boasts a unique blend of organic oils to balance and nourish skin. The tea tree deodorant blends coconut oil, shea butter and mango butter to battle odor while moisturizing dry skin. Women seeking a natural glow can utilize the soft clay face mask that combines turmeric powder with powerful anti-inflammatory properties that help to reduce acne scarring.
A Commitment to Quality and Transparency
One of Urban Pulse owner's highest priorities as a handmade, natural business is to remain 100 percent transparent with her client base. "I want my customers to trust that Urban Pulse will remain honest and open about all ingredients used in our products," she said, "so they can feel safe in what they are using on their skin."
Customer service is what makes the brand even more unique. From the moment a customer places an order, he or she begins to receive messages from the owner with status updates of the products that are being handmade. Each product is carefully crafted and inspected to make sure it is just right.
Fans of Urban Pulse anxiously anticipating the new product line will be introduced to the Harvest Moon Collection when it officially launches on Aug. 27, 2018. The product line offers innovative, all-natural skin care products, as well as handmade candles and aromatherapy. Candles are created using pure soy wax produced from U.S. grown soybeans, while each aromatherapy product is formulated with a blend of essential oils to ease stress, anxiety, depression and more.
To learn more about Urban Pulse, visit www.urbanpulseco.com. Subscribe at http://eepurl.com/diOvQD to receive the latest in product release information, discount codes and insights into the world of natural bath and body care.
Notes to editors
​For further information, interviews, images or samples, please contact Danielle Hawks: danielle@urbanpulseco.com.
Source: Urban Pulse
---
Categories: Beauty and Personal Care, Small Business
Tags: All Natural, Aromatherapy, Beauty, New Brand, New Business, New Collection, New Product Line, Personal Care, Skincare, Small Business
---