Uplifting Content Summit Features Top Motivational Speakers
Press Release
•
updated: Aug 22, 2017
The Uplifting Content Summit features Interviews with inspiring individuals who provide insight into what makes them tick and how we can apply these insights to our own lives. Enjoy life-changing information from motivational speakers, life coaches, authors and content creators.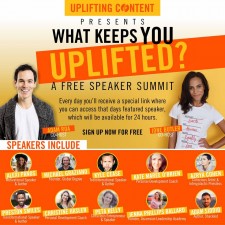 LOS ANGELES, August 22, 2017 (Newswire.com) - Uplifting Content is pleased to announce the launch of its first Uplifting Content Summit featuring top motivational speakers, authors, life coaches and content creators. The summit officially begins on Aug. 24, 2017.
Register for the FREE summit: https://upliftingcontent.com/summit
Sometimes life can be hard. We get it. And while it would be great to be able to hit the pause button and take the time to fully recharge, it simply doesn't work that way. So how do the game changers of today's world manage to stay uplifted and moving forward towards their goals? What are some of the best pieces of advice that they can share with us?

Ione Butler, Founder of Uplifting Content
Bonus Interview with Jay Shetty available if you sign up before Aug. 24.
​Preorder entire summit: https://upliftingcontent.com/preorder​
FEATURED SUMMIT SPEAKERS
Adam Siddiq - Author, Shackled
Kyle Cease - Transformational Speaker & Author
Preston Smiles - Transformational Speaker & Author
​Alexi Panos - Motivational Speaker & Author
Christine Hassler - Personal Development Coach
​Azrya Cohen - Conscious Artist & Intergalactic Priestess
Jenna Phillips Ballard - Founder, Ascension Leadership Academy
​Peta Kelly - Conscious Entrepreneur & Speaker
Michael Graziano - Founder, Global Degree
Kate Maree O'Brien - Personal Development Coach
SUMMIT HOSTS
Ione Butler
Ione Butler is an actress, host, content creator, entrepreneur and the founder of Uplifting Content. She is on a mission to uplift and inspire people through her website, Facebook page and her Uplifting Clothing line.
Adam Roa
Adam Roa is a human optimization consultant, spoken word poet, and conscious filmmaker. His potent spoken word poetry and deeply moving multimedia creations take viewers on a transformational journey that leads to greater self-awareness and compassion for all of life. He's also the host of the weekly podcast, "The Deep Dive with Adam Roa" (available on iTunes) which allows listeners to be a fly on the wall for unscripted conversations with today's thought leaders.
Source: Uplifting Content
Related Media