Upgrade Your Lawn for Less With Artificial Turf
Press Release
-
updated: Mar 27, 2018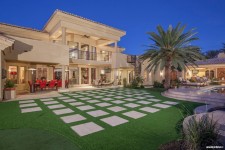 Scottsdale, AZ, March 27, 2018 (Newswire.com) - For a low care, low cost alternative to natural grass, consider upgrading your lawn with artificial turf. Synthetic grass is easy to clean and requires less work and less environmental resources to maintain at its best. Arizona Luxury Lawns and Putting Greens is a Scottsdale-based company providing the highest quality artificial turf and lawn installation in Arizona. Home and business owners, particularly those in desert climates, want a lawn that's durable enough to withstand dry conditions without losing its luster. Arizona Luxury Lawns specializes in providing premiere landscape artificial turf to residential, commercial, and athletic properties that looks great all year round and doesn't require water or fertilizer. With locations in Scottsdale, Tucson, Flagstaff, and Prescott Valley, Arizona Luxury Lawns is bringing the industry's best synthetic grass to those who need it, one lawn at a time.
Solutions for common lawn problems. Residential homes, corporate offices, storefronts, athletic fields, playgrounds, putting greens, golf courses, and more all need sustainable, low maintenance grass that can be relied upon throughout every season. Switching from natural grass to synthetic means lawns with longer life duration, less maintenance like watering and mowing, eco-friendly design, and an ROI from lawn maintenance just 3-5 years after installation. Arizona Luxury Lawn turf products are made with superior design and durability, meaning that from Tucson to Mesa, astroturf is transforming homes and providing smart solutions for every lawn problem. Customers enjoy expert grass installation, smooth lawns, and a wide range of turf specific options, including different blade shapes and coloring. And no cheap Chinese manufactured turf here – just durable, USA-produced synthetic grass made with superior design resources.
About Arizona Luxury Lawns and Putting Greens. Home and business owners need lawns they can rely on. Buying from Arizona Luxury Lawns means receiving the only 100% industry guarantee on customer satisfaction and high quality, affordable products that last for 18-20 years with little maintenance. Arizona Luxury Lawns is committed to quality, service, and value in both products and installation, and is always available to answer questions about artificial turf and what it can help customers achieve.
Ready to upgrade your lawn? Experts at Arizona Luxury Lawns are standing by. Get in touch by calling 480.991.0196 or reach out by email at info@azluxurylawns.com. Visit ArizonaLuxuryLawns.com for more information.
Arizona Luxury Lawns
8350 E Evans Road, Building E-1
Scottsdale, Arizona 85260
Hours of operation:
Monday-Friday: 9am-5pm
Saturday: 10am-1pm
Sunday: Closed
Source: Arizona Luxury Lawns and Greens
---
Categories: Gardens and Landscape
Tags: artificial turf, grass installation, landscape artificial turf, Lawn installation, Mesa Astroturf, synthetic grass
---