Untold Pearl Harbor Story Revealed in New World War II Book
Some wars are waged in secret...
Press Release
-
updated: Apr 12, 2017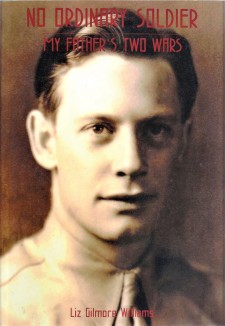 Indian Land, SC, April 12, 2017 (Newswire.com) - Thirty-three years after her dad's death, author Liz Gilmore Williams delves into his letters and photos from World War II, seeking to solve a mystery: What caused his terrifying rages? She'd never considered his surviving the attack on Pearl Harbor. The letters lead her to uncover a spellbinding look at Hawaii's transformation from island paradise to war zone, the bombing of Pearl Harbor, and his combat duty on other Pacific battlefields. Amid her quest, Liz stumbles upon a shocking secret that the letters also imply: Her father had waged two wars―one of them with himself.
As we observe the 75th anniversary of the bombing of Pearl Harbor, No Ordinary Soldier: My Father's Two Wars (Burkwood Media) offers an account of the war in the Pacific from the viewpoint of a signal corpsman in the Army Air Force. In addition to witnessing Pearl Harbor, her father saw combat on three sets of Pacific islands. Part history, creative nonfiction, and memoir, No Ordinary Soldier includes scores of her dad's photos from the era. Though she began her research with her parents' nearly 300 letters, the author spent eight years fully researching her subject.
"Because he died when I was 18, I never got to know him well," says the author. "I learned not only about his wartime sacrifice but also of a secret internal battle that men of his generation waged. The journey into my father's war took me home, really, for the first time."
Liz Gilmore Williams worked as a writer and editor for more than 20 years in Washington, D.C. for two offices of the U.S. Congress and other organizations. Her essay, "April Love," won an award in 2014 for creative nonfiction from the Virginia Writers Club and was published by an online literary magazine in February 2015. That and two other essays have been similarly published. She enjoys writing stories about people who've had a front-row seat to history. She blogs about World War II at www.forties-photos.com/dispatches.  Liz can be reached on Facebook https://www.facebook.com/NoOrdinarySoldier/, Twitter at https://twitter.com/WWIIletterlover, or through her web site, http://www.noordinarysoldier.com/. No Ordinary Soldier: My Father's Two Wars is available at online booksellers.
###
Contact
Liz Gilmore Williams
20234 Dovekie Lane
​Indian Land, SC 29707
803-431-6843
Source: Liz Gilmore Williams
Share:
---
Categories: Books, History, Military and Defense, War
Tags: air force, history, military, Pacific, Pearl Harbor, Second World War, soldier, war, World War 2, WW 2, WW II, WWII World War II
---
Related Files
Additional Links