Garage Sale Cash Register App Saves Time and Hassle
Press Release
•
updated: Jul 25, 2017
A new app, "TallySheet," tracks sales and uses your smartphone to checkout customers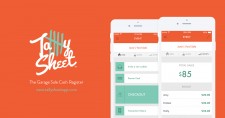 GRAND RAPIDS, Mich., July 25, 2017 (Newswire.com) - The new garage sale cash register app, TallySheet, allows anyone with a smartphone to check customers out and tracks sales to an unlimited number of sellers making cashing out at the end of any sale a breeze.
Since the official launch in spring 2017, TallySheet has been installed almost 20,000 times and has 5,000 users.
TallySheet users love the app:
"We used this for our garage sale this weekend … we had seven sellers so it could have gotten confusing and hard to manage, but TallySheet really kept things simple and easy. We'll be using it again!"
"I love this app and will never go back to the old paper and pen. I wish I would have done this earlier because it would have saved us so much time."
How TallySheet was born:
When holding garage sales with family and friends, Holly Anderson struggled to accurately keep record of sales, sellers, and how much money each person made at the end of a sale. She tried sticking prices on a poster board and tallying everything with a calculator, but it took hours and she found that the totals were sometimes a hundred dollars off from their earned cash.
With Holly's need for some way to better keep track of sales and her husband Brian's tech experience, the couple developed TallySheet, an app that helps sellers to stay organized in any kind of sale event. One or multiple sellers can use the app to record transactions, returns, and item swaps; keep track of starter cash for each seller; and generate reports at the end of the sale.
The Andersons tested TallySheet in their own garage sales and made improvements based on their experience combined with other users' feedback. When using the app, instead of the usual hundred or so dollars difference, Holly found the difference between recorded sales and cash was only $0.28.
TallySheet can be found in the App Store, Google Play, and the app's website, where users can also find more information on how to use it. Whether your event is a garage sale, craft sale, bake sale, or otherwise, downloading TallySheet will help you stay organized, accurate, and efficient.
Don't host another sale without TallySheet again.
Source: TallySheet
Related Media