Unprecedented Agent Orange Convention to Be Held in Washington DC This Weekend, Oct. 5-8
Press Release
•
updated: Oct 3, 2017
Children of Vietnam Veterans Alliance Inc. to gather environmental and veteran affairs experts and activists from around the world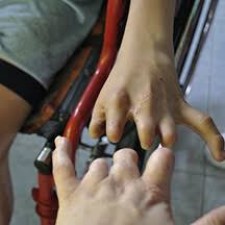 CANFIELD, Ohio, October 3, 2017 (Newswire.com) - Children of Vietnam Veterans Health Alliance (COVVHA) will mark Agent Orange Awareness Month with a three-day convention in Washington D.C., Oct. 5-8. The convention will educate the public about Agent Orange and its effects in relation to the Vietnam War. Powerful stories of generations impacted will be given, as well as expert educational sessions from speakers from around the world.
The 3-day conference will be held at the Washington Dulles Airport Marriott. Daily tickets can be purchased for $45.00 per day. The ticket is good for entry into the educational sessions, meals not included. The Saturday ticket will also include transportation to the Vietnam Memorial Wall, seats limited.
The Conference will feature the following experts: Dr. Ken O'Brien, of Australia, son of an Australian Vietnam Veteran, who specializes in generational trauma. Susan Hammond, daughter of a Vietnam Veteran, and director of the War Legacies Project. Dr. Robin Gay, daughter of a Vietnam Veteran, and Senior Psychologist of Mount Sinai School of Medicine. Dr. Victoria Davey, Associate Chief Research & Development Officer for Epidemiology and Public Health In the Veterans Administration of the Department of Veterans Affairs.
The event will include personal stories of those believed to be affected by Agent Orange, such as Josh Kelley, son of a Vietnam Veteran, born missing both arms and his left leg, his father lost to suicide. Rachel Harting, daughter of a Vietnam Veteran, who suffered with infertility, her father also lost to Agent Orange Illness. Brandy Liên Worrall, daughter of an American Vietnam Veteran and a Vietnamese mother, diagnosed at age 31 with breast cancer, and who lost her father to Agent Orange-related cancer.
The following organizations will also share their missions: Vietnam Veterans Memorial Fund, AmerAsians Building Bridges and Expedition Orange Organization.
The event will kick off Thursday night with a film viewing of "Agent Orange Memories" featuring three COVVHA member's trip to meet Vietnamese Agent Orange survivors in Vietnam. Friday's events will open with the Virginia Patriot Guard Riders followed by educational expert sessions. Saturday evening, participants will travel to The Vietnam Memorial Wall together via charter bus.
COVVHA
COVVHA was started in 2011 as a nonprofit in the State of Ohio. It became a federally recognized 501 (c)(3), non-profit in January 2012. COVVHA is the only 501 (c)(3) founded by, governed and run by Children of Vietnam Veterans for their own peers.
Our Commitment
Those who have been hurt by Agent Orange Dioxin, but were not in the military have been forgotten. Little to nothing has been done to identify and meet the needs of those left behind. COVVHA is committed to educating others about the lasting negative effects of chemical warfare. COVVHA is committed to help find answers, resources, and ultimately justice for all secondary exposures to military herbicides also known as Agent Orange as well as the other Rainbow Herbicides.
Media Contact: Heather Bowser​
Email: COVVHA@gmail.com
​Phone: 330-787-1428
​Website: http://www.covvha.net
Source: Children of Vietnam Veterans Health Alliance (COVVHA)
Related Media
Tags
Additional Links