Unitree Robotics B-W Wheel-Legged Robot Showcased at ICRA 2023 London
Press Release
•
Jun 2, 2023
Unitree Robotics participated in ICRA for the sixth consecutive year. Unitree Robotics exhibited Go1, B1, A1, and other quadruped robots at ICRA. Unitree is a world-renowned robotics company that focuses on self-development.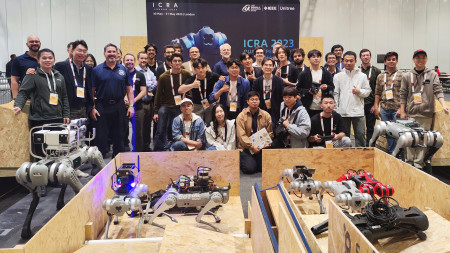 LONDON, England, June 2, 2023 (Newswire.com) - On May 29, ICRA 2023, the International Conference on Robotics and Automation, was held in London, UK, which is the largest and most influential international academic conference in the field of robotics organized by the International Institute of Electrical and Electronics Engineering (IEEE). Unitree Robotics, a leader in the foot-based robotics industry, was invited to participate in this international event to showcase the innovative power of Chinese technology companies to the world.
At this year's ICRA 2023, Unitree Robotics officially launched the Unitree B-W wheeled robot, which not only attracted a large number of visitors to stop by and take photos, but also added fresh colors to this year's ICRA. Several top robotics companies around the world participated in the showcase. In addition to Unitree Robotics, seven other exhibitors brought Unitree Robotics quadruped robots to ICRA, highlighting Unitree Robotics' leading position in robotics technology and strong leadership in the field.
ICRA 2023 hosted a number of robotics challenges on site, and the Quadruped Robotics Challenge QRC was the first of a series of challenges, covering a range of events from Quadruped Robotics Remote Control Race to Autonomous Traversal of Challenging Terrain, and Unitree Robotics became the exclusive sponsor of Quadruped Robotics in Greater China with its outstanding technological strength. In addition, the competition also attracted many world-renowned universities and research institutions from Massachusetts Institute of Technology (MIT), Carnegie Mellon University, Korea Institute of Science and Technology (KAIST), the University of Hong Kong, Heriot-Watt University, Clemson University, etc., and Unitree Robotics provided technical support and services to the participating teams, contributing actively to the development of the robotics field. Unitree Robotics has made a positive contribution to the development of the robotics field.
In addition to a wide range of on-site challenges, well-known technology companies such as Boston Dynamics, Dyson, Baidu, IIT and PAL Robotics were also on hand to showcase their latest technologies in the field of robotics.
Robots have long since turned from fantasy in science fiction movies into reality and have permeated all walks of life, and intelligent robots will accompany people's lives in the future, following them like a shadow and being everywhere. Unitree Robotics has been invited to participate in ICRA for six consecutive years, and every year, Unitree Robotics will continue to put technological innovation in first place as the leader of the foot robot industry in China, and will continue to make breakthroughs and develop continuously to lead the global foot robot industry to new heights.

About Unitree Robotics
Official website: www.unitree.com
Shopify: shop.unitree.com
Github: github.com/unitreerobotics
Twitter: twitter.com/UnitreeRobotics
FaceBook: www.facebook.com/unitreerobot
LinkedIn: www.linkedin.com/company/unitreerobotics
Source: Unitree Robotices