UFANDAO, a Decentralized Fundraising Platform, is Launched to Power Next-Gen of Fundraising Market
Press Release
•
Nov 18, 2022
UFANDAO, an Estonian-based tech startup, has recently launched an innovative fundraising platform to provide an incredible level of performance, transparency, and other unique features.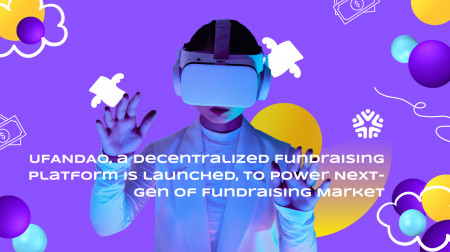 TALLINN, Estonia, November 18, 2022 (Newswire.com) - UFANDAO is the first fundraising platform in the world acting on the principles of decentralization and peer-to-peer donations allowing to host fundraising campaigns without third parties involved. Since DAO provides transparency and protects its members from institutional and corporate abuse, UFANDAO uses the DAO model in fundraising to enable its members to run their campaigns independently and successfully from start to finish.
Unlike traditional fundraising platforms, UFANDAO provides opportunities for a wider variety of personal fundraising campaigns, may it be funding for a school course, a trip to the mountains or animal support shelter construction. The funds are transferred between campaign participants without any commissions by the platform.
"We think that every dream has a meaning and every person has the right and opportunity to fulfill it, that is why we decided to create a win-win community where every member will benefit from raising funds to make their dream come true," said Oleg Rodionov, CEO at UFANDAO.com.
The platform makes all donations between members real-time, direct and secure. Each subscriber can use a preferred way to receive funds to the personal account: card to card, PayPal, Wise, or crypto wallets.
UFANDAO plans to steadily grow its community, so the referral program is also envisaged for the users providing all its members with an equal win-win fundraising environment.
About UFANDAO
UFANDAO is a next-generation decentralized fundraising platform aimed at fulfilling the financial needs and dreams of its members. It was launched by a team of passionate people who believe in the idea of fair and decentralized fundraising. In response to that, UFANDAO provides its members the ability to create time-boundless fundraising campaigns that are free, peer-to-peer, secure and decentralized. UFANDAO is an officially registered organization that has all the necessary licenses and documents in accordance with European legislation. The company's documentation is publicly available on the website.
Source: UFANDAO