UCSF Offers Online Interprofessional Course to Help Keep Up With Diabetes
Advanced management of diabetes certificate course helps medical community better care for the diabetes pandemic.
Press Release
-
updated: Aug 14, 2018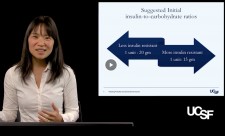 SAN FRANCISCO, August 14, 2018 (Newswire.com) - Diabetes is the fastest growing chronic illness in the world, but most people with the disease receive care from non-specialized providers. UC San Francisco aims to equip medical professionals with focused diabetes knowledge to better address the needs of their unique patient populations by offering a nationally-recognized panel of interdisciplinary experts via an online, self-paced certificate program which includes 30 continuing medical education (CME) units.
"When I was diagnosed, my team was caring but didn't realize many aspects, including the impact of language on my emotional health," said Maureen McGrath, MS, PNP-BC, BC-ADM, associate professor in the UCSF School of Nursing. "Labeling blood sugars as good or bad made me feel ashamed when my glucoses were elevated, even when it was beyond my control." 
McGrath, Founder and Director of the nation's first diabetes minor for advanced practice nurses, directs the Advanced Management of Diabetes online certificate program.
"We hope this online program will improve the care of tens of thousands of people with diabetes by getting their medical team up to speed with the complex and changing nature of diabetes by learning from nationally-recognized experts," McGrath said.
The course is for primary care providers, nurses, pharmacists, dietitians, exercise physiologists, health educators, certified diabetes educators and other healthcare professionals to update their knowledge on type 2 diabetes care, earn continuing education credit and advance their careers. Participants also can directly connect to faculty with two live video classes. 
A nurse and one of the first participants wrote, "I want to thank you for this excellent online course. I am very impressed. Even though I have been a Certified Diabetes Educator for over 15 years, I am getting so much out of it! I highly recommend it."
The three modules include:
1. Clinical Management of Adult Diabetes: Learn which of the new oral agents and injectables are right for your patients, how to titrate insulin, and the variables affecting digestion times, and, thus, glucose values and insulin timing.
2. Care of Medically Underserved Populations: Learn how to Improve the effectiveness of your communication by incorporating therapeutic language, discussing treatment for those with low health literacy and caring for marginalized populations with diabetes.
3. Behavioral Approaches to Diabetes: Explore the emotional side to diabetes, discern the difference between diabetes distress and depression, understand the barriers to changing behavior, and review the new technology available and the motivators to using it.
Cost is $199 per module or $499 for all three modules. Email theresa.garnero@ucsf.edu for more information or visit http://www.ucsfcme.com/diabetes/ to register.
Contact:
Theresa Garnero, Instructional Designer
831.917.0749
Theresa.Garnero@ucsf.edu
Source: UCSF
Share:
---
Categories: Healthcare, Family Medicine, Dieticians and Nutritionists
Tags: behavior change, CME, control diabetes, diabetes, exercise, insulin, new diabetes drugs, nutrition, online diabetes course, prevent diabetes complications, type 2 diabetes
---