Ubirider Explains How Transit Companies Can Begin Embracing Digital Transformation
Press Release
•
updated: Oct 5, 2020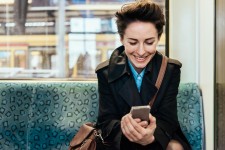 PORTO, Portugal, October 5, 2020 (Newswire.com) - ​Ubirider, creator of Pick, a door-to-door travel and payment solution, provides some perspective on how transit companies can embrace digital transformation.
Over the past decade, digital transformation has forced one industry after another — from retail and entertainment to financial services and hospitality — to throw out their old playbooks and fundamentally rethink how they operate.
Not to be left out, the transportation and mobility space has dipped its toes in these transformative waters, primarily through the debut of companies offering on-demand services for cars, bicycles, scooters and nearly every other imaginable form of personal mobility.
But what about the entities that operate trains and buses and ferries? These multipassenger modes of transport are the workhorses of any transportation network, and the public agencies and private companies responsible for operating them have been a little slower on the uptake when it comes to digital transformation.
From my perspective as the founder and CEO of a digital platform for transit operators that helps manage ridership and fares, if it was already important for these transit agencies and operators to shake off the cobwebs and start embracing innovative new ways of operating beforehand, it has become absolutely essential for them to consider it now in the age of Covid-19.
A new world requires a new approach.
The nature of the coronavirus means that human habits and behaviors have changed virtually overnight. It's unlikely that anyone wants to feed coins or paper money into a fare box that dozens of other people have touched. For similar reasons, few people want to deal with handling physical tickets. On top of that, no one wants to be bunched up in close proximity to other people at a time when social distancing is the order of the day.
But most transit agencies and private operators rely on physical, hardware-based systems for ticketing and fare control. We can quickly see the different ways that model makes it hard to address these problems (and how it creates new ones).
Let's take buses as an example: In response to Covid-19, many buses need to allow people to board through the rear door for the foreseeable future. However, most buses have physical fare collection systems that are fixed just inside the front door, near the driver. Trying to reconfigure their physical systems by moving them to the rear door would be time-consuming, incredibly complex and prohibitively expensive. The bus could staff the back door with an additional person in charge of fare control, but that would incur additional costs and defeat the purpose of eliminating touch points and human contact.
Read the full article on Forbes.com. For more information about Ubirider, visit www.ubirider.com.
Media Contact: Angela Simoes, angela.simoes@ubirider.com
Source: Ubirider