U. S. Presidential Election, 2016: Trump, Clinton Pence, Kaine and Their "Dirty Authorities"
The two major party U.S. Presidential nominees and their Vice Presidential picks come from "dirtiest" local and state governments noted for severe pollution. Yet, in 2016, polls show America's voters and citizens are more concerned than ever about environmental issues.
Press Release
-
Sep 15, 2016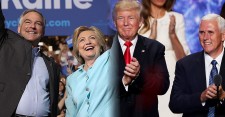 Washington, DC, September 15, 2016 (Newswire.com) - The two major party Presidential nominees for the United States election, and their Vice Presidential picks, come from "dirtiest" local and state governments publicized for severe pollution problems. "This information comes as America's voters and citizens alike are more concerned than ever about environmental issues," said Steve Spacek, author of the American State Litter Scorecard and based in Washington, D. C.
Democrat Hillary Clinton and (native) Republican Donald Trump are longtime New York City residents. Since 2012, Travel + Leisure has rated their hometown as America's number one "Dirtiest City" for excess and unlawful waste, water and air pollution. FORBES has also berated the nation's largest populated urban entity -- a member of its "20 Dirtiest American Cities" list -- for "...high levels of ozone, sulfur, airborne particulates and tap water so polluted you can't (or shouldn't) drink it."
Mike Pence, Trump's running mate, is the current Governor of Indiana, ranked as the number three "worst" Scorecard government for poorest environmental conditions. U. S. Senator Tim Kaine, Clinton's Vice Presidential choice, represents Virginia, one of the Scorecard's most populous yet "below average" environmental quality performers. Virginia and Indiana were noted for their poor public spaces cleanliness; citizen conduct disrespecting the environment; lacking of an anti-litter slogan campaign; high trash wastefulness.
So far, all four--Clinton, Trump, Pence and Kaine -- have yet to make any public statement of any kind on the campaign trail, supporting or proposing needed pollution cleanups, of thousands of communities and dozens of states.
A Gallup Poll conducted in March found a majority of Americans—61 percent-- expressed "a great deal of concern" about toxic pollution increasingly being found in local and state-managed drinking water, lakes, rivers and reservoirs. Since the 1970's to the present, Gallup has consistently found in their polling results, that most in the United States "...believe the public sector has not worked hard enough to protect the environment, and that economic growth should be sacrificed to do so."
Mr. Spacek said that Illegal littering and dumping breeds diseases and unwanted vermin that creates harm to nature and animals. Over 800 Americans are killed each year in vehicle collisions with un-removed debris from streets and highways. "'Dirtiest' and 'worst' administrations have done little to nothing--just a terrible job, at removing rubbish on public properties, while not encouraging helpful, Green behaviors for their citizens," Spacek said.
Source: Steve Spacek
Share:
---
Categories: Elections, Politics, National News
Tags: 2016 election, American State Litter Scorecard, Clinton, Hillary Clinton, Indiana, New York City, Tim Kaine, Trump-Pence, United States presidential election, US Election 2016, Virginia
---